Auditions for Flying
by Sheila Cowley
Directed by Robin Gordon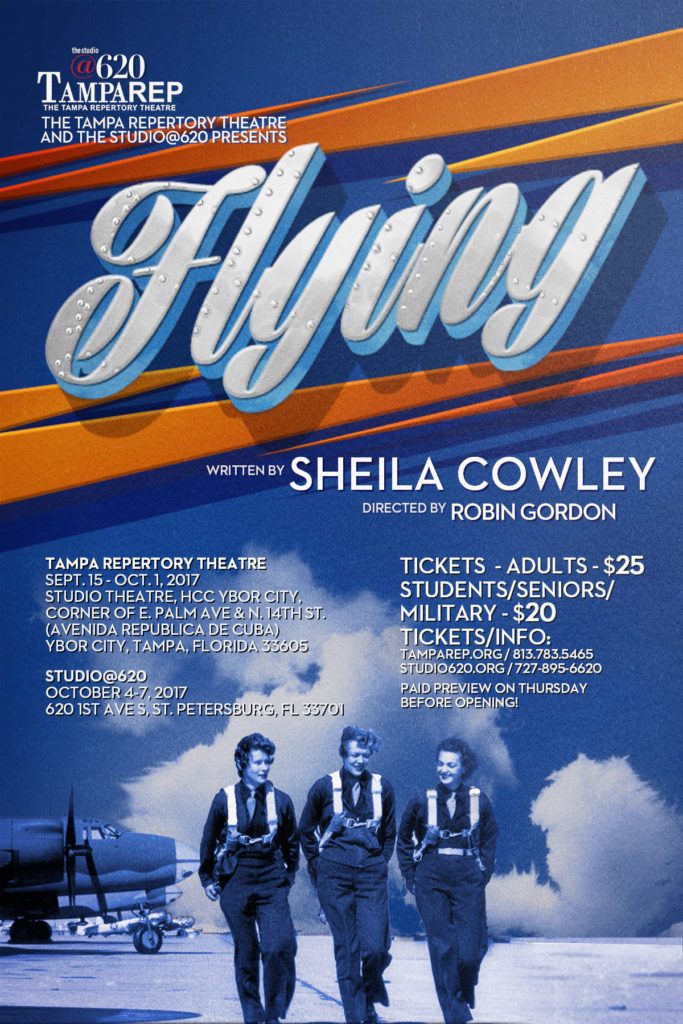 Flying explores the lives of women flyers in the aftermath of World War II.  Susan flew military planes during the war, so men could go and fight. Now she's home, trying to get back to normal.  Meanwhile, the town waits for her local hero husband to return.  As the town tells glory tales of Bob, Susan tries to put away her memories of flying. She uses Bob's legend to keep his family airfield going, so when Fisher, his wounded gunner, shows up looking for a job, she's forced to hire him. Drawn from oral histories and memoirs of women who served in the WASP program in WWII, Flying explores the aftermath of war and the quiet, daily acts of heroism that never earn a medal.
Performance Dates:  Sept. 15 – Oct. 1 (Studio Theatre, HCC Ybor City
Oct. 4 – 7 (The Studio@620, St. Petersburg)
(Preview, Sept. 14; performances Thursday to Sunday at HCC; Wednesday to Saturday at The Studio@620)
Audition Dates:  Friday, July 7, 6pm – 10pm
Saturday, July 8, 1pm – 6pm
All roles are open (except Susan):
SUSAN MCCALLAN . . . 30s, pilot.
RORY FISHER. . . 30s-early 40s, WWII veteran.
LUCY. . . 20s-30s, pilot.
LAURA LORENZO. . . 40s-60s, aviatrix.
DOC. . . 50s-60s, Susan's father.
 All actors are paid.
For the audition:
Please prepare a 1-2 minute monologue from a contemporary realistic play and choose one (or more) of the sides below, depending on the role(s) for which you're auditioning.
To sign up for an audition slot, click on

Friday

or

Saturday

.  If you cannot come during the listed times, contact C. David Frankel, Artistic Director, at cdfrankel@gmail.com.
Sides: