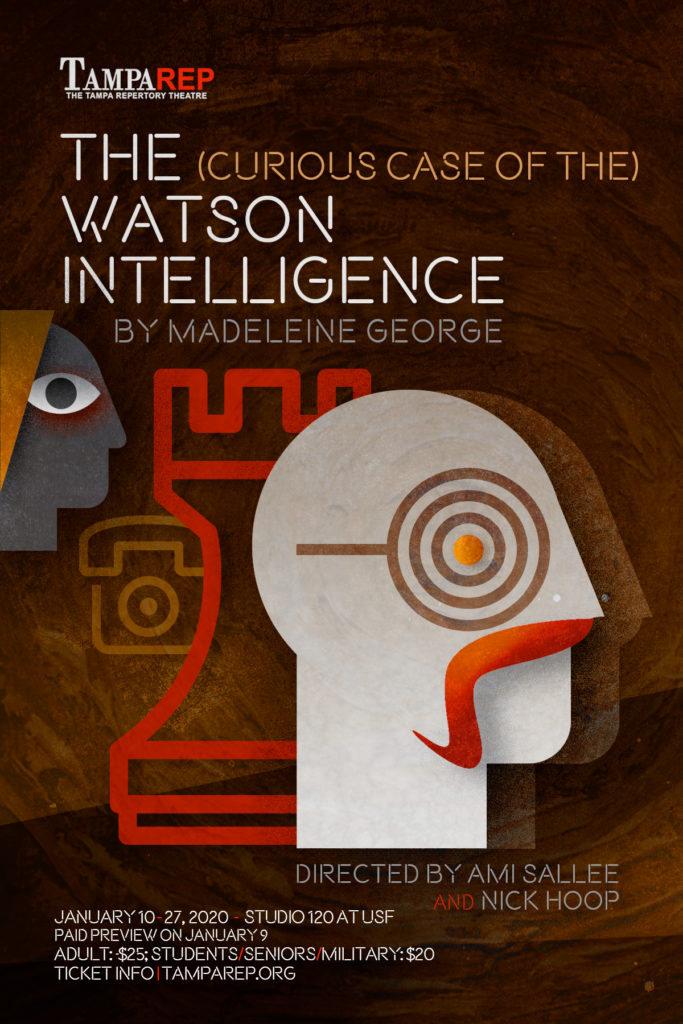 The (Curious Case of the) Watson Intelligence, by Madeleine George
Directed by Ami Sallee and Nick Hoop
January 10—26, 2020 (Preview January 9)
Thursdays through Saturdays at 8pm; Sundays at 3pm.
Studio 120 is in the Theatre Center (TAR)
University of South Florida
3837 USF Holly Drive, Tampa, FL

Click for USF Tampa Campus Map
The (curious case of the) Watson Intelligence is presented by special arrangement with Samuel French, Inc., a Concord Theatricals
Company.
The (Curious Case of the) Watson Intelligence:  Pulitzer-Prize Runner-Up
"Watson" is the trusty sidekick to Sherlock Holmes, a loyal engineer who built Bell's first telephone and the unstoppable supercomputer that became a Jeopardy! champ. He's also an amiable techno-dweeb looking for love. All four Watsons become one in this brilliantly witty, time-jumping tribute. "Relationships are, by definition, uncomfortable," says playwright George. "Or you're not in one…. That's an interesting mistake to make. To think that you're going to be able to bring technological improvement to bear on what is in some ways the most intractable problem of our existence: other people."
Save over 40% with an Early Bird FlexPass!
Individual tickets will go on sale on Aug. 1, 2019.