Come Back Together
with TampaRep,
ThinkTank,
and Stageworks!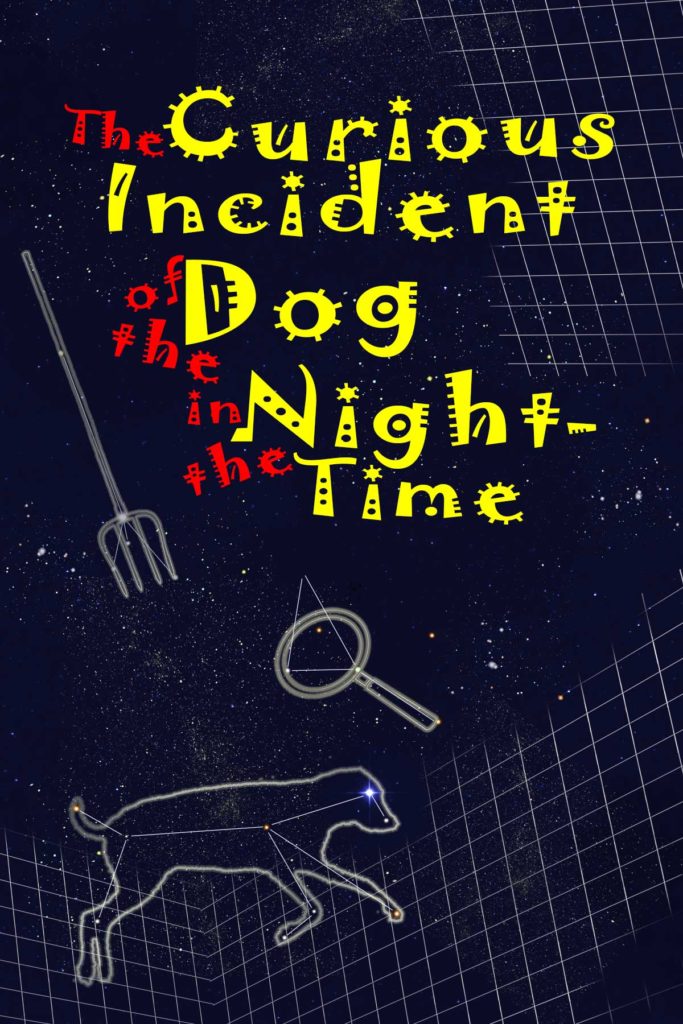 Production Sponsor:
Frank Taylor
Collaboration Sponsors: Hal Freedman & Willi Rudowsky
Sponsors: The Kehoe Family
Jill & Chris Sketch
THE CURIOUS INCIDENT OF THE DOG IN THE NIGHT-TIME was first presented by the National Theatre, London at the Cottesloe Theatre on August 2nd 2012 and transferred to the Gielgud Theatre, West End, London on March 12th 2013. The Play opened in the USA at the Ethel Barrymore Theatre on October 5th 2014.
This Play is presented by kind permission of Warner Bros. Entertainment.
Fifteen-year-old math whiz Christopher Boone lives with his divorced dad in Swindon, a working-class town west of London. After being falsely accused of killing a neighbor's dog, Christopher—who is brilliant but has difficulty dealing with the sounds and stresses of everyday life—decides to investigate the crime. The secrets he unearths prompt him to leave his trusted teacher and the familiar streets of his hometown for a life-changing train trip to London. Based on Mark Haddon's best-selling 2003 novel, The Curious Incident of the Dog in the Night-Time is a thrilling and heartwarming adventure story featuring an unforgettable young hero.
| | |
| --- | --- |
| Playwright | Simon Stephens |
| | |
| --- | --- |
| Costume Design | Mary Kraack |
| | |
| --- | --- |
| Lighting Design | Cody Basham |
| | |
| --- | --- |
| Sound Design | Georgia Mallory Guy |
| | |
| --- | --- |
| Set & Video Design | Jim Sorensen |
| | |
| --- | --- |
| Properties | Michael Silvestri |
| | |
| --- | --- |
| Dialect Coach | Christopher Marshall |
| | |
| --- | --- |
| Movement Choreo. | Emilia Sargent |
| | |
| --- | --- |
| Fight Choreo. | Jim Sorensen |
| | |
| --- | --- |
| Stage Manager | Jessie Dorsey |
| | |
| --- | --- |
| Asst. Stage Manager | Jeron Dooling |
| | |
| --- | --- |
| Asst. Stage Manager | Gil Bloom |
| | |
| --- | --- |
| Technical Director | Paul McColgan |
| | |
| --- | --- |
| Christopher Boone | J.J. Humphrey |
| | |
| --- | --- |
| Ed Boone | Cranstan Cumberbatch |
| | |
| --- | --- |
| Judy Boone | Marie-Claude Tremblay |
| | |
| --- | --- |
| Actor One | Kristina Kourkoulos |
| | |
| --- | --- |
| Actor Two | Michael Silvestri |
| | |
| --- | --- |
| Actor Three | Ryan-Patrick McLaughlin |
| | |
| --- | --- |
| Actor Five | Imani Alvarado |
J.J. HUMPHREY
is a fun, quirky, energetic actor, public speaker, national anthem singer and disability advocate who has been acting in central Florida since 2012, both on stage and on camera. He is excited to be in his first show with TampaRep and ThinkTank! He loves the art of storytelling and hopes to make a difference in this world. He is on the Florida Youth Council (representing youth ages 15 to 30 with disabilities in Florida) and the Epilepsy Florida Youth Advocacy Council. He loves fishing, Star Wars, theme parks, wearing loud shirts, and making soap
LEARN MORE ABOUT JJ:
"The curious climb of neurodivergent actor JJ Humphrey as he prepares for the biggest role of his career…"
(CLICK TO CONTINUE READING)
CRANSTAN CUMBERBATCH
born and raised in St. Petersburg, FL,  is an award winning film & stage actor, writer, director, producer, and U.S. Talent Olympic Medalist. He was most recently seen prior to the pandemic in the hit independent film Agent X the movie, and the Dominique Morriseau stage play Pipeline with American Stage Theater Company. Other stage credits include; A Raisin in the Sun as Bobo, Two Trains Running as Wolf, and  RENT as Benny all with American Stage Theater Company. He also has had significant roles in Webb's City as Leo, Crossing the Bay, and Voodoo Macbeth as Malcolm with the Studio@620. Cranstan is truly grateful and excited to be a part of such an amazing production that's being brought to life by an Amazing Director, Cast, & Crew to match.
MARIE-CLAUDE TREMBLAY
originally from Quebec City, Canada, is stunned and delighted to realize she has been active on the Tampa Bay theatre scene since her arrival to the area, 5 years ago. She is excited to work with TampaRep for the first time! Favorite credits include, Natural Shocks, Ugly Lies the Bone, Proof and Dark Vanilla Jungle (Innovocative Theatre), Judgment at Nuremberg (Stageworks Theatre), Mike Hammer, Encore for Murder (Ruth Eckerd Hall). Her first foray into playwriting, Thank You Notes, was produced at the Tampa International Fringe Festival. She thanks her family for the love, support and endless inspiration.
CALEE GARDNER
is a newcomer to Florida from Utah and is thrilled to be working with TampaRep on this wonderful story! Recent roles include: Harriet Smith (Emma, Hale Center Theater), Diana Barry (Anne of Green Gables, Pardoe Theater), Miranda (The Tempest, Renaissance Now), Marianne Dashwood (Sense and Sensibility, Hale Center Theater), and Deirdre Blake (The Humans, Nelke Theater). She also performed and presented at the IUGTE Physical Theater Conference in Leibnitz, Austria. A recent BFA Music Dance Theater graduate, Calee is also an accomplished voice teacher and dramaturg.
KRISTINA KOURKOULOS
(she/her) is thrilled to be making her TampaRep debut. She is a Tampa native and a recent USF graduate with a love of all visual and performing arts. Her favorite past shows include A Shayna Maidel (Rose Weiss), She Kills Monsters (Tilly), Cameron Mackintosh's Mary Poppins (Mary Poppins), Disney's Beauty and the Beast (Ensemble), and One Flea Spare (Morse). She has also been a director/assistant director for several amazing shows, including Dry Land, The Wolves, and an original student devised piece, Magnetic North.
MICHAEL SILVESTRI
After a 28-year absence from Florida, Michael returned to the Bay Area in 2015 and quickly re-established himself on the local theatre scene. Most recently seen as Joe Gillis in "Sunset Boulevard" at EOT and Jimmy Winter in "Nice Work" at FWP, he is elated and grateful to be making his TampaRep debut. Michael studied acting at AADA in NY, and always intended for theatre to be his "Chapter 1". Since being moved into early retirement this year, after 16 years as a senior analyst for a top insurance carrier in the US, he may just get that chance!
RYAN-PATRICK McLAUGHLIN
 (he/they) is grateful to be returning to a Tampa Bay stage with his Tampa Rep debut. Ryan-Patrick has been seen in Rocky Horror Show (Dallas Theatre Center), The Fantasticks (Salerno Theatre Company), Shel's Shorts (Studio@620), and numerous concerts, cabarets, and readings. He will be making his Stageworks Theatre debut this January as Juror #2 in 12 Angry Men. Offstage, Ryan-Patrick is a freelance producer and arts consultant. He received his BFA in Theatre from Southern Methodist University.
LARRY CORWIN
is thrilled to be back working with Tampa Rep again, following earlier roles in The Other Place and View from a Bridge. Since returning to Tampa he has also appeared at LAB Theater Project, Innovocative Theater, St. Pete Shakespeare and Powerstories. Larry has an MFA from the Dallas Theater Center, and had a 30 year career working in American embassies overseas with the U.S. State Department. Other favorite roles have included Gollum in The Hobbit at the Dallas Children's Theater, Corydon in Aria de Capo with the Brussels American Theater, and Don in American Buffalo with the ODA Theater in Pristina, Kosovo.
IMANI ALVARADO
is ecstatic to be making her Tampa Repertory Theatre debut in The Curious Incident of the Dog in the Night-Time. Imani's most recent and favorite roles she has appeared as include Lucy Van Pelt in Snoopy!!! (ThinkTank Theatre, TYA) and Heather Chandler in Heathers (madTheatre). She would like to thank her family, especially her husband, for always encouraging her to follow her dreams and never give up. In the future Imani hopes to be able to offer young rising actors the same opportunities, support, and educational experience that she has been afforded.
DONNA DELONAY
previously appeared with Tampa Rep as Amelia Tilford in The Children's Hour. Other recent local credits include Kitty in Perfect Arrangement and Jack's Mother in Into the Woods (both at freeFall Theatre in St. Petersburg) and lead roles in several plays at Early Bird Dinner Theater in Clearwater. Donna has a BFA in Musical Theater from FSU and an MFA in Performance from the Asolo Theater Conservatory. She is so very happy that live theater is back!!!
SIMON STEPHENS
is a contemporary English playwright, whose recent works include The Curious Incident of the Dog in the Night-time (2013 Olivier Award Best New Play, 2015 Tony Award Best Play), Heisenberg (2015 Off-Broadway), numerous adaptations of shows like the National Theatre's 2016 The Threepenny Opera, Chekov's The Seagull (2017) and The Cherry Orchard (2014), plus On the Shore of the Wide World (2006 Olivier Award Best New Play).
Stephens ran the Young Writers' Program at the Royal Court Theatre in London, premiering several shows there including Motortown (2006), Country Music (2004), Herons (2001), and Bluebird (1998). Currently Stephens is an Artistic Associate at the Lyric Hammersmith Theatre in London, where his adaptation of The Seagull played in 2017.
A father of three, he lives in London with his wife and family.
MARK HADDON
The son of an architect, Haddon was born in Northampton, England in 1962 and studied English at Merton College, Oxford. He became a carer for disabled people in Scotland after university, an experience which would inform his later work. His first writing work was as a children's author and illustrator.
Haddon is most famous for his novel The Curious Incident of the Dog in the Night-time which won the Whitbread Book of the Year Award in 2003 and the Commonwealth Writers' Prize Overall Best First Book in 2004. This novel was the first Haddon wrote specifically for an adult audience, although it was eventually marketed to both adults and children. Haddon's earlier works include the children's series Agent Z. He also wrote the screenplay adaptation of Raymond Brigg's story Fungus the Bogeyman which was screened on BBC1 in 2004. In 2009 Haddon donated his short story The Island to Oxfam's 'Ox-Tales' project.
Haddon is a vegetarian as well as a hard line atheist who lives in Oxford with his wife, Dr. Sos Eltis, a Fellow of Brasenose College, and their two sons. He enjoys canoeing, cycling and running marathons.
EMILIA SARGENT
As Producing Artistic Director/CEO and co-founder of TampaRep, it is her mission to produce thought-provoking, relevant, bold art that will serve the Tampa Bay community for decades to come. A long-time actor, her passions for the creation of theatre as well as for training artists are as deep as her love of performance. Directing credits at TampaRep include Every Brilliant Thing, Copenhagen and The Children's Hour. She is currently pursuing her M.F.A. in Directing and Arts Management at the University of Idaho. Emilia offers her heartfelt thanks to the donors, audiences, artists and administrators who make live theatre possible.
DIRECTOR'S NOTE:
"The Curious Incident of the Dog in the Night-Time opens with a question: Who killed Wellington the dog?…" (CLICK TO CONTINUE READING)
MARY KRAACK
is a 40-year veteran in the theater. For two decades she served as Technical Operations Manager at Clayton County Schools Performing Arts Center in Georgia, after more than 18 years as a theater educator. Her background includes service with state and national theater organizations such as Georgia, Florida and International Thespian Society, Florida and Southeastern Theater Conference and USITT. After two years as the Costume Director at Blake High School in Tampa FL, Ms. Kraack officially "retired," and since that time has focused on theatrical costume creation. She has costumed shows for Theater Arts and Dance Alliance, Patel Conservatory and other local productions. She is honored to have this first opportunity to work as Costume Designer with Tampa Rep. Her educational background includes two degrees in Theater and Speech from Ball State University in Muncie IN.
GEORGIA MALLORY GUY
is the Producing Artistic Director of ThinkTank Theatre as well as a professional actor/director. Regional credits include: Milwaukee Rep., Orlando Shakes, Pittsburgh Irish and Classical, Palm Beach Dramaworks, Florida Rep., American Stage, freeFall, Jobsite, Stageworks, Tampa Rep., Banyan, A Simple Theatre, ThinkTank, Show Palace, Monomoy and Festival 56 among others. Georgia is an adjunct professor for Centenary University and a former adjunct at the University of South Florida, Ohio University, and Troy University. She is a proud member of Actors' Equity. Originally from Prattville, AL, Georgia attended Troy University, earning degrees in Music Education, Communications/Theatre, and a vocal minor. Georgia earned her MFA in performance from Ohio University's Professional Actor Training Program. She currently goes back and forth between Florida and New Jersey, has a loving husband, Traveis, and some amazing fur babies.
JIM SORENSEN
has been an actor, singer, administrator, designer, director, and all-around theatre practitioner for over 25 years. He has worked in theatres from Alaska to Florida, from New York to California, and travelled the world as an entertainer on cruise ships. Management credits include American Stage, freeFall Theatre, Florida Studio Theatre, The Music of Denali Dinner Theatre, and The Melodrama Musical Theatre. He has also been recognized with numerous awards for performances on stages throughout the Gulf Coast.
CHRISTOPHER MARSHALL
is an actor, director, and teacher. Off-Broadway: No End of Blame, Pity in History, The Possibilities, The Havel Plays, Cahoot's MacBeth (PTP/NYC Atlantic Stage 2). Regional: All My Sons (Milwaukee Rep), A Christmas Carol (ACTTheatre Seattle), Betrayal (Aurora Theatre, *Best Cast SFGuardian); The Two Gentlemen of Verona, Hamlet, Love's Labors Lost, A Penny for a Song (American Players Theatre), Copenhagen (Tampa Rep), Hedda (Jobsite), three seasons at The Utah and Colorado Shakespeare Festivals.
JESSIE DORSEY
is a freelance Stage Manager in the Tampa Bay Area. She graduated with her BA in Theatre Arts in 2016 and with her MBA in 2020. She currently holds a full-time job at HCC and is pursuing her EdD. In her nonexistant free time, Jessie plays the ocarina, enjoys her hyper-energetic dog, cooks, plays D&D and video games, and crafts. Jessie is very grateful to ThinkTank and Tampa Rep for the wonderful opportunity to Stage Manage both of these incredible productions.
PAUL McCOLGAN
is a founding member and Production Manager of Hat Trick Theatre Productions.  When not hiding out in his workshop, he can be found building both fake and real rooms and houses around the Tampa Bay Area.  He would like to thank TampaRep, ThinkTank, and Stageworks for keeping him around, and he would like to thank you for coming to see this show!  Extra special thanks to BD&R for making his life so great.  Stay safe and enjoy the show!
JERON DOOLING
Jeron is thrilled to be working on his first show with ThinkTank Theatre. His most recent credits include ASMing for TampaRep's Open and Every Brilliant Thing, and stage managing for Carrollwood Players Theatre's productions of Godspell and A Midsummer Night's Dream. He would like to thank Jasmine for her mentorship. In his free time, Jeron performs improv comedy as a member of "Daytime Delusions."
GIL BLOOM
is excited to be back at ThinkTank for another production. Favorite credits include the technical director of Bad Jews with the JCC, Stage Manager of The Muller Report with Stageworks, and the sound engineer for. James and the Giant Peach with the Patel Conservatory. Gil is a student at Robinson High School and has also trained at the Patel Conservatory. Ok that's it.
CARLY KUCK
is a sophomore at Alonso high-school, and a part of troupe 6299. Most recently, Carly was Puck in Alonso's production of A Midsummer Nights Dream. Along with theatre, she has a passion for orchestra and swim, which she participates in at her school. Carly is honored to serve as assistant director for this production of The Curious Incident of the Dog in The Night-time, she hopes you enjoy the show!
BOOMER
is an 8 year old shihpoo, but he is still a puppy at heart. This is his first time on stage and he is so excited to be a part of this production. 
* Member of The ThinkTank Theatre Youth Artists' Ensemble