Come Back Together
with TampaRep and
USF School of Theatre and Dance
Hosted by:
USF School of Theatre and Dance
Production Sponsor:
George Hugh
Ticketing Sponsor: Russ Buchan
THE DREAMER EXAMINES HIS PILLOW is presented by special arrangement with Dramatists Play Service, Inc., New York.
SETTING
Scene 1 – Tommy's apartment
Scene 2 – Dad's apartment
Scene 3 – Tommy's apartment
RUNNING TIME
1 hour 40 minutes – no intermission
SYNOPSIS
Some guests find a brief synopsis of the story to be helpful when watching the play. If that's you, (CLICK HERE)
| | |
| --- | --- |
| Playwright | John Patrick Shanley |
| | |
| --- | --- |
| Director | Christopher Marshall |
| | |
| --- | --- |
| Set Design | Lisa Lippincott & Jim Sorensen |
| | |
| --- | --- |
| Lighting Design | Jayce Bertucelli |
| | |
| --- | --- |
| Sound Design | Georgia Mallory Guy |
| | |
| --- | --- |
| Costume Design | Macy Smith |
| | |
| --- | --- |
| Intimacy Director | Emilia Sargent |
| | |
| --- | --- |
| Stage Manager | Harrison Baxley |
| | |
| --- | --- |
| Directing Apprentice | Jackson Kuhn |
| | |
| --- | --- |
| Dramaturg | Bryce Matthew Hagen |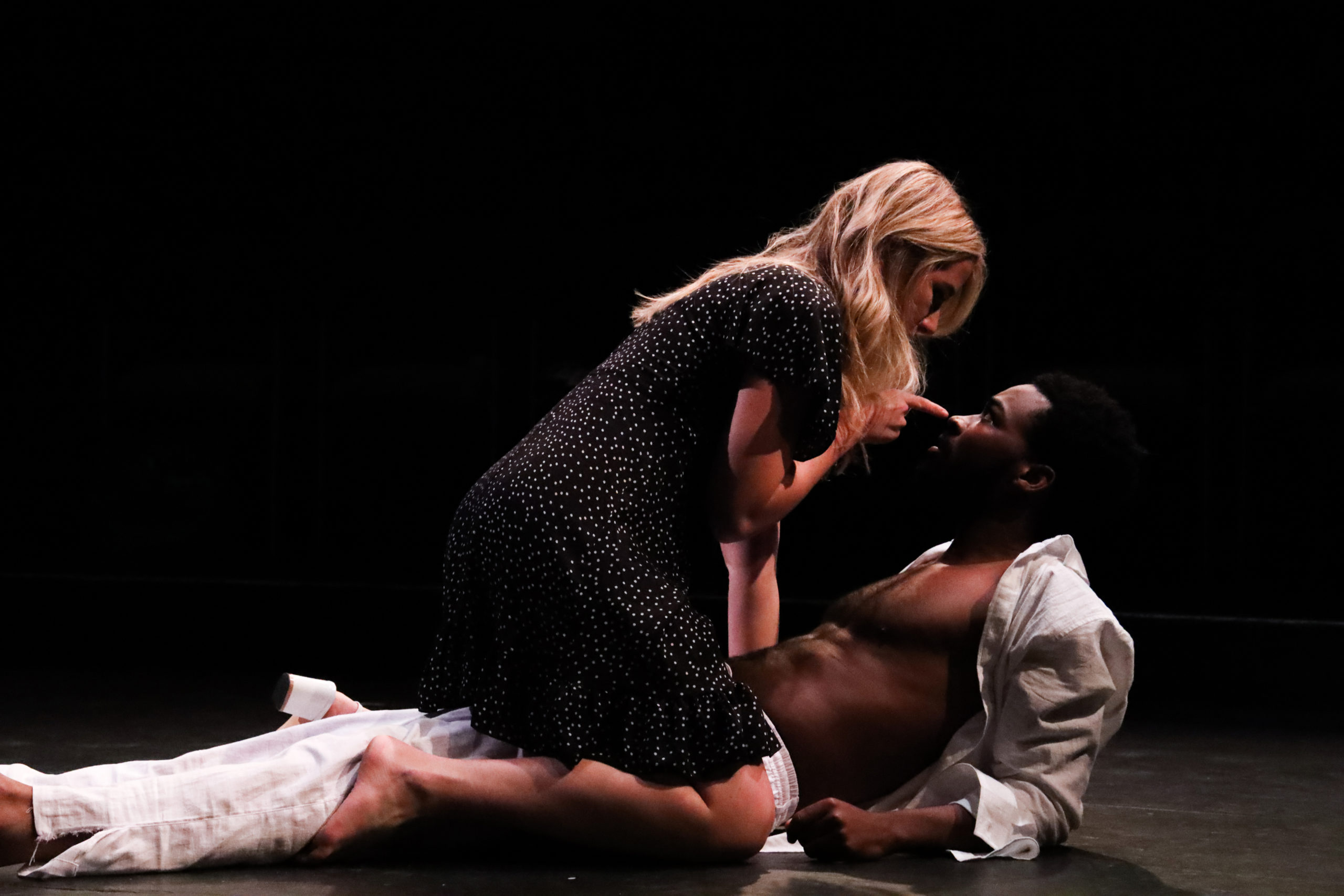 * denotes membership in Actors' Equity Association, the union representing professional actors and stage managers in the United States.
AR'DARIUS STEWART
ALL GLORY TO GOD! I am a purpose filled man from Abbeville, South Carolina whom found passion in the art of acting. I thank God for this moment to perform with TampaRep. I dedicate my performance to my bonus mom, Roberta Howland. Your love and prayers have wrapped me up and carried me to this point. You are God's gift to the world and so many people can attest to this. I love you so much Mrs. Roberta! IG: @Darius_Dreams
ANNA ROMAN
is thrilled for her first production at TampaRep and to work again alongside dear friend and mentor Chris Marshall. Recent credits: Marisol (Woman with Furs), Lungs (W.), Three Sisters (Irina), Macbeth (Lady Macduff, u/s Lady Macbeth), and various student films. In addition to being an actor, she is a producer, musician, dramaturg, and professional makeup artist. Anna is a 2022 graduate from the University of Florida with a BFA in Theatre Performance (Acting) and will be continuing her training next year at the David Geffen School of Drama at Yale with an MFA in Acting. She would like to thank the Dreamer team for their work and her friends, family, and B for their endless love and support. 
JIM SORENSEN
has been an actor, singer, administrator, designer, director, and all-around theatre practitioner for almost 25 years. He has worked in theatres from Alaska to Florida, from New York to California, and travelled the world as an entertainer on cruise ships. Management credits include freeFall Theatre, Florida Studio Theatre, The Music of Denali Dinner Theatre, Melodrama Musical Theatre. As an actor, he has been seen on stage at Asolo Rep (1776, South Pacific), The Banyan (Time Stands Still), freeFall (Cabaret, The Normal Heart, The Buffalo Kings, The Burnt Part Boys), American Stage (The Rocky Horror Show, The Producers, Much Ado About Nothing, Mamma Mia!) and Stageworks (The Blue Room). Love to Chloe and Natalie.
JOHN PATRICK SHANLEY
is from the Bronx. He was thrown out of St. Helena's kindergarten. He was banned from St. Anthony's hot lunch program for life. He was expelled from Cardinal Spellman High School. He was placed on academic probation by New York University and instructed to appear before a tribunal if he wished to return. When asked why he had been treated in this way by all these institutions, he burst into tears and said he had no idea. Then he went into the United States Marine Corps. He did fine. He's still doing okay.
CHRISTOPHER MARSHALL
is a director, actor, and teacher. He has been seen in Tampa most recently as George Tesman in Hedda with Jobsite Theater, and as Werner Heisenberg in Copenhagen with TampaRep. Regional and International theatre includes: Milwaukee Rep, ACTTheatre Seattle, Utah Shakespearean Festival, two seasons with both the Colorado Shakespeare Festival and American Players Theatre; Riverside Theater, Aurora Theatre (Best Cast, Betrayal, SF Guardian 2004), Disk Theatre (Prague), Gdansk Shakespeare Festival (Poland), and the University Theatre (Amsterdam). He has directed in both Los Angeles (LA Times Critic's Pick, With Their Eyes) and in Europe with the Transversal Theatre Company, of which he is a Co-Artistic Director. Christopher is a graduate of Middlebury College and holds an MFA in acting from UC Irvine. He has taught and directed at Middlebury College, Sage Hill School, and the Grotowski Institute (Poland); currently he is the Director of Upper Division Theatre at Berkeley Prep.
LISA LIPPINCOTT
has been some combination of creator, designer, editor, writer and curator for very nearly her entire life, working both alternately and simultaneously in paint, pixels, wood, metal, found objects and words. She is both delighted and a little bit terrified to be contributing to the set of The Dreamer Examines His Pillow.
ABOUT THE ARTIST:
"'The call I got, in effect, went something like this: "We want to do something different–" (CLICK TO CONTINUE READING)
JAYCE BERTUCELLI
(she/her) graduated from University of South Florida with a B.A. in Theatre Design with a concentration in Lighting. She works for USF's Events and Production Services, as well as at the Straz TECO theatre. She enjoys lighting plays, musicals and dance.
GEORGIA MALLORY GUY
is the Producing Artistic Director of ThinkTank Theatre as well as a professional actor/director. Regional credits include: Milwaukee Rep., Orlando Shakes, Pittsburgh Irish and Classical, Palm Beach Dramaworks, Florida Rep., American Stage, freeFall, Jobsite, Stageworks, TampaRep., Banyan, A Simple Theatre, ThinkTank, Show Palace, Monomoy and Festival 56 among others. Georgia is an adjunct professor for Centenary University and a former adjunct at the University of South Florida, Ohio University, and Troy University. She is a proud member of Actors' Equity. Originally from Prattville, AL, Georgia attended Troy University, earning degrees in Music Education, Communications/Theatre, and a vocal minor. Georgia earned her MFA in performance from Ohio University's Professional Actor Training Program. She currently goes back and forth between Florida and New Jersey, has a loving husband, Traveis, and some amazing fur babies.
MACY SMITH
Is a recent graduate from Greensboro College (May '21) where she received her B.A. in Theater with her concentration in Costume Design. She is currently a Costume Designer / Wardrobe Technician around the Saint Petersburg/Tampa Bay area with her most recent productions being Newsies (Berkeley Preparatory), Helen Edmundson's Anna Karenina (Berkeley Preparatory), and A Midsummer Night's Dream (Camp Merrie-Woode). She is super duper excited for this to be the first production with TampaRep and can't wait for you guys to see her designs. She would like to thank her mother, Bernadette Smith, for being her rock 🙂
EMILIA SARGENT
As Producing Artistic Director/CEO and co-founder of TampaRep, it is her mission to produce thought-provoking, relevant, bold art that will serve the Tampa Bay community for decades to come. A long-time actor, her passions for the creation of theatre as well as for training artists are as deep as her love of performance. Directing credits at TampaRep include Every Brilliant Thing, Copenhagen and The Children's Hour. She earned her MFA in Directing and Arts Management at the University of Idaho. Emilia offers her heartfelt thanks to the donors, audiences, artists and administrators who make live theatre possible.
HARRISON BAXLEY
Harrison Baxley (he/him) graduated with a B.A. in Theatre Arts from USF in 2021. He now teaches English and Theatre at Hillsborough High School where he directed The Lightning Thief this past Spring. Harrison has served as Stage Manager for Snoopy!!! The Musical (ThinkTankTYA), and I Am Nobody's Lunch (Turkey Creek Collective). He was last seen in TampaRep's powerful and brief production of King Lear.
JACKSON KUHN
is a rising junior, currently attending Berkeley Preparatory School. He loves being a part of the theater program at Berkeley and participating in all their shows. Some of his recent work has been, serving as the assistant director for Newsies (Berkeley Prep), and Anna Karenina (Berkeley Prep). He is interning with TampaRep for the first time, and is thrilled to be doing so on such a terrific project, with such a talented cast and crew. He'd like to thank all his friends and family for supporting him, and Chris Marshall for giving him this incredible opportunity!