TRT2, TampaRep's laboratory company, presents Philip Ridley's incendiary drama Tender Napalm from Nov. 13 to 29 at the Silver Meteor Gallery in Ybor City. This exciting play explores the psychological and physical relationship between a man and a woman locked in an eternal struggle. With seismic shifts and beautifully shocking language, the play reveals a man and woman whose reality evolves with the stories they tell.  Tender Napalm was nominated for Best New Play at the London Fringe Festival and we're proud to offer the Florida premiere of this explosive play.
[su_box title="What people say:"]"A writer of daring and satanic imagination, with a sui generis vocabulary to match"
"An emotional play, running the gamut from grief to ecstasy in long, fantastical speeches."
"A frighteningly clear-eyed, viciously funny and deeply sensual examination of the way love shipwrecks us on a desert island from which there can be no rescue."[/su_box]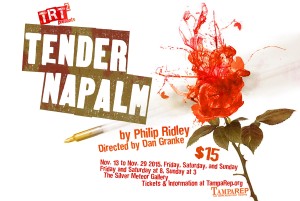 Meet the Cast
[half]Betty-Jane Parks is half the cast of Tender Napalm. Betty-Jane's last performance at the Silver Meteor (as Flannery O'Connor in A Peculiar Crossroads) won her the 2015 Theatre Tampa Bay Best Actress Award. She recently completed another star turn in Hat Trick Theatre Productions' Deathtrap. A multi-talented artist, we're excited to have her onstage withTampaRep.[/half]
[half]Derrick Phillips, the other half of Tender Napalm's cast hit the Tampa theatre scene last spring in the inaugural productions of the Tampa Shakespeare Festival. He recently played Dr. Joe Cardin in TampaRep's production of The Children's Hour and, after Tender Napalm, he'll appear in Lebensraum at Jobsite Theatre. After a second season with TampaShakes (for which he'll play Richard III, among others), Derrick returns to TampaRep in our spring production of Silent Sky. So, he's a busy guy. Come see what's set Tampa directors on fire when he meets Betty-Jane Parks in Tender Napalm.[/half]
Warning: Tender Napalm is intended for mature audiences. It has been rated L, V, S (for language, violence, and sexual situations). Viewer discretion is advised.
[su_divider top="no" divider_color="#000000″ size="2″]
Thinking about shopping?  If you do, please consider using Amazon Smile.  Designate us as your charitable partner, and for every dollar you spend, we'll recieve a small donation.  It turns shopping into a gift.
You can also help us by making a direct donation — no amount is too small, and every penny that's donated goes into making our productions better and compensating our artists as they deserve. You can make a donation on our website or by clicking here.
We hope to see you at Tender Napalm, and at the rest of our TampaRep Season:  True West, Silent Sky, and The Iceman Cometh. And it's not to late to get a FlexPass or a FlexPass Mini.  It's our fifth anniversary season; celebrate with us!
See you at the theatre.
C. David Frankel
Artistic Director

The Tampa Repertory Theatre operates as a non-profit professional theatre and is a 501(c)(3) charitable organization registered with the Florida Department of Agriculture and Consumer Services, registration # CH43726. A copy of the official registration and financial information may be obtained from the division of consumer services by calling toll-free (800-435-7352) within the state. Registration does not imply endorsement, approval, or recommendation by the state. U.S. Federal Tax ID number is 45-2408329. Your contribution is tax-deductible to the extent allowed by law.