Tampa Repertory Theatre & Creative Loafing
present
CONVERSATION STARTERS
 Staged
readings

of new plays you won't be able to stop talking about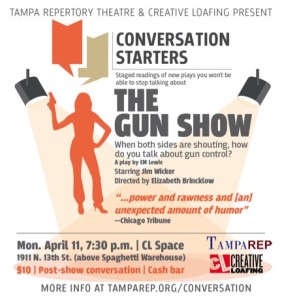 in the CL Space, 1911 N. 13th St. (above Spaghetti Warehouse)
7:30pm (Doors open at 7)
 $10
 Post-show
conversation
 Cash bar
 Conversation Starters brings new works to Tampa that have started conversations across the country.
 April 11:  The Gun Show, by award-winning playwright E.M. Lewis.
A man speaks words a woman wrote.  Sharing her experiences with guns. He tells us her stories because she's not an actor. And so she won't be alone.
Playwright E.M. Lewis explores the mixed feelings that most people have about guns. Because the extreme pro-gun and the extreme anti-gun people don't need this play.
But everybody else does.
When gun control debates are shouting matches and nobody's listening, this thoughtful play invites you to begin a conversation.
Directed by Elizabeth Brincklow, with Jim Wicker as the man.
Join us for a provocative evening of theatre — and a chance to talk about it.
Save the Dates
May 9:  Blackberry Winter, by Steve Yockey
June 13:  Johnny 10 Beers' Daughter, by Dana Lynn Formby
Two more exciting new plays sure to keep the conversation going.
Conversation Starters — it's a new TampaRep tradition.