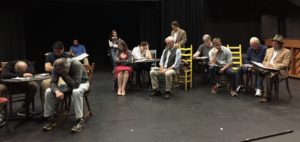 News from TampaRep:
The Iceman Cometh — Acting Intensives for Youth and Adults, Too!
We're just two weeks away from opening The Iceman Cometh, the final production of our Season of American Visions.  Our production of Iceman (pictured in rehearsal, above) celebrates the 100th anniversary of Eugene O'Neill's first production ("Bound East for Cardiff") at the Provincetown Playhouse in 1916.  Written near the end of his life,The Iceman Cometh probes with humor, pathos, and tragedy the importance of a dream of tomorrow to keep us going today.  Set in Harry Hope's saloon in New York City's then-grubby lower West side in 1912, The Iceman Cometh studies a collection of broken, lost men and women, and the salesman who arrives with a perverse pitch to save each of them from themselves. It's a story of hope and regret, of how the lies people tell themselves can both sustain and destroy them.
Said one critic of the latest revival: "Iceman flies by like a rollercoaster ride of thrilling comedic highs and stomach-churning lows."
The large TampaRep cast features some of Tampa's finest actors, including Ned Averill-Snell (TampaRep's Betrayal, Jobsite Theater's Lebensraum), Michael Mahoney (Proof at Gypsy Stage Repertory), Jack Holloway (TampaRep's Hamlet and True West), Erin Foster (TampaRep/Stageworks' Inherit the Wind), Jordan Foote (American Stage's One Slight Hitch), Josh Goff (American Stage's Jitney), Nick Hoop (Jobsite's Silence: The Musical) in the challenging role of Don Parritt, and many more, directed by TampaRep's artistic director, C. David Frankel (Inherit the Wind — a co-production with Stageworks,Betrayal, and others).
Iceman opens on June 16 and plays weekends through July 3 in Studio 120 on the USF-Tampa campus.  Please note that performances on Thursdays through Saturdays begin at 7pm (Sundays at 3).  There's ample onsite parking.  You can order tickets and find more information on our website.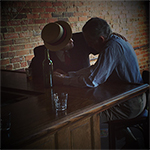 [su_divider top="no" divider_color="#000000″ size="2″]
Also coming in June, two weeks of Acting Intensives for Youth and Adults.
First up, during the week of June 13:
Summer Youth Acting Intensive, 7th-12th grades, 9:00am – 4:00pm:
Acting with Emilia Sargent: Scene study, monologue and/or song interpretation, and improvisation and Unarmed Stage Combat with Dan Granke: Principles underlying basic, safe, unarmed stage combat.
Summer Adult Acting Intensive, 6:30pm – 9:30pm:
Michael Chekhov Technique with Dan Granke: Learn Chekhov's energetic and highly physical approach to character creation and storytelling.
During the week of June 20:
Summer Youth Acting Intensive, 4th-6th grades, 9:00am – 4:00pm:
Acting with Georgia Mallory Guy: Movement, voice, and characterization realized through both scripted and unscripted formats and Movement and Improvisation with Dan Granke: Acting from a movement perspective including clown, physical comedy, and stage combat.
Summer Adult Acting Intensive, 6:30pm – 9:30pm:
Speaking and Acting Shakespeare with Dan Granke: Explore breath options, argument construction, and word choice to clarify the text and ensure audience comprehension. Examine the rhythms inherent in the text to find keys to creating texture and internal life.
EARLY BIRD REGISTRATION EXTENDED TO JUNE 6! TIME'S RUNNING OUT!
Our Teaching Staff
Emilia Sargent (pictured as Henrietta Leavitt in Silent Sky) is a professional actress, singer, director, teacher, and a member of Actors Equity Association and SAG-AFTRA. SPassionate about theatre education for youth, Sargent serves as the Director of Education Programs for TampaRep, founded the S.A.L.T.™ Drama Intensive for youth in 2001, served on the faculty at the Patel Conservatory and Corbett Preparatory School, and has directed youth musicals throughout the area. She currently runs the Emilia Sargent Studio for voice and acting at the Community School of the Arts.
Dan Granke (pictued in the Tampa Shakespeare Festival production of Richard III) is an expert in acting, theatrical movement, and stage combat. He is a Certified Teacher with the Society of American Fight Directors, and has studied with The Center for Movement Theatre, National Michael Checkov Association, and the Celebration Barn. He holds an MFA in Movement Pedagogy and currently serves on faculty at the University of South Florida. He is one of the founders and current Producing Artistic Director of the Tampa Shakespeare Festival.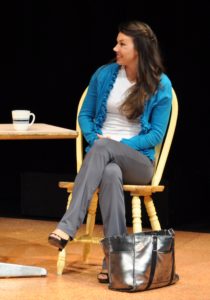 Georgia Mallory Guy (pictured in TampaRep's Phoenix) is a professional actor/singer/dancer and a member of Actors Equity Association. She has worked regionally with Milwaukee Repertory Theatre, Pittsburgh Irish and Classical Theatre, Palm Beach Dramaworks, Florida Repertory Theatre, American Stage, Tampa Repertory Theatre, and others. She recently appeared in Jobsite Theatre's The Maids. She earned an MFA in Acting in the Ohio University Professional Actor Training Program. In addition to acting, Georgia has taught at the University of South Florida, Ohio University, and Troy University. Currently, she is the Theatre Director and leads the voice studio at South Tampa Center for the Arts.
[su_divider top="no" divider_color="#000000″ size="2″]
There's more brewing at TampaRep as we prepare for The Iceman Cometh, our summer intensives, and the third offering in our new series of staged readings, Conversation Starters (it's Johnny 10 Beers' Daughters on June 13). We're also planning our sixth season, and we hope to announce it soon.  Whatever we choose, you can count on it continuing the tradition we've started of bringing you an exciting line-up that's innovative, provocative, classic.  That's TampaRep.
See you at the theatre.
C. David Frankel
Artistic Director
[su_divider top="no" divider_color="#000000″ size="2″]

Copyright © 2016 The Tampa Repertory Theatre, All rights reserved.
You are receiving this email because you expressed an interest in, or signed up for, news about The Tampa Repertory Theatre.
Our mailing address is:
The Tampa Repertory Theatre
217 West Powhatan Avenue
Tampa, Fl 33604
Add us to your address book
The Tampa Repertory Theatre operates as a non-profit professional theatre and is a 501(c)(3) charitable organization registered with the Florida Department of Agriculture and Consumer Services, registration # CH43726. A copy of the official registration and financial information may be obtained from the division of consumer services by calling toll-free (800-435-7352) within the state. Registration does not imply endorsement, approval, or recommendation by the state. U.S. Federal Tax ID number is 45-2408329. Your contribution is tax-deductible to the extent allowed by law.