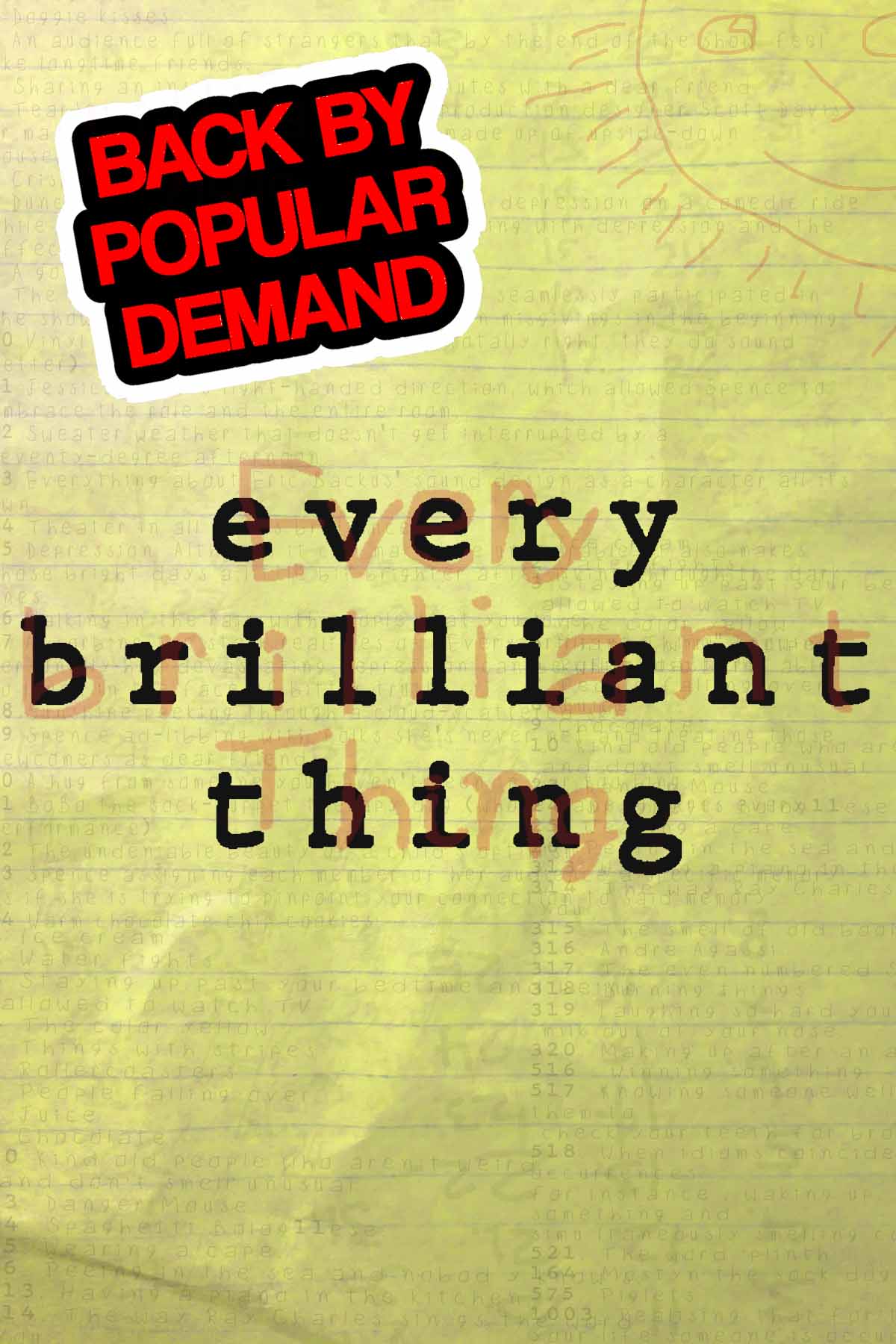 Every BrilliantThing
by Duncan Macmillan
with Jonny Donahoe
directed by Emilia Sargent
featuring Ned Averill-Snell
September 16 – October 3 @HCC Performing Arts
sponsored in part by Hal Freedman and Willi Rudowsky
You're six years old. Mom's in the hospital. Dad says she's "done something stupid." She finds it hard to be happy. So you start to make a list of everything that's brilliant about the world. Everything that's worth living for.
1. Ice cream.
2. Kung Fu movies.
17. Burning things.
54. Laughing so hard you shoot milk out of your nose.
You leave it on her pillow. You know she's read it because she's corrected your spelling. Soon, the list will take on a life of its own. A play about depression and the lengths we will go to for those we love.
"[A] heart-wrenching, hilarious play…One of the funniest plays you'll ever see about depression—and possibly one of the funniest plays you'll ever see, full stop…There is something tough being confronted here—the guilt of not being able to make those we love happy—and it is explored with unflinching honesty." —The Guardian (UK).
"EVERY BRILLIANT THING finds a perfect balance between conveying the struggles of life, and celebrating all that is sweet in it." —The Independent (London).
THE TAMPAREP DOUBLE-HEADER TICKET
EVERY BRILLIANT THING runs in rep with OPEN by Crystal Skillman, which features the amazing storytelling of K Sotakoun! Save $$ and see both with the TampaRep Double-Header!
<CLICK HERE!>
If you or someone you know needs help, find more information here: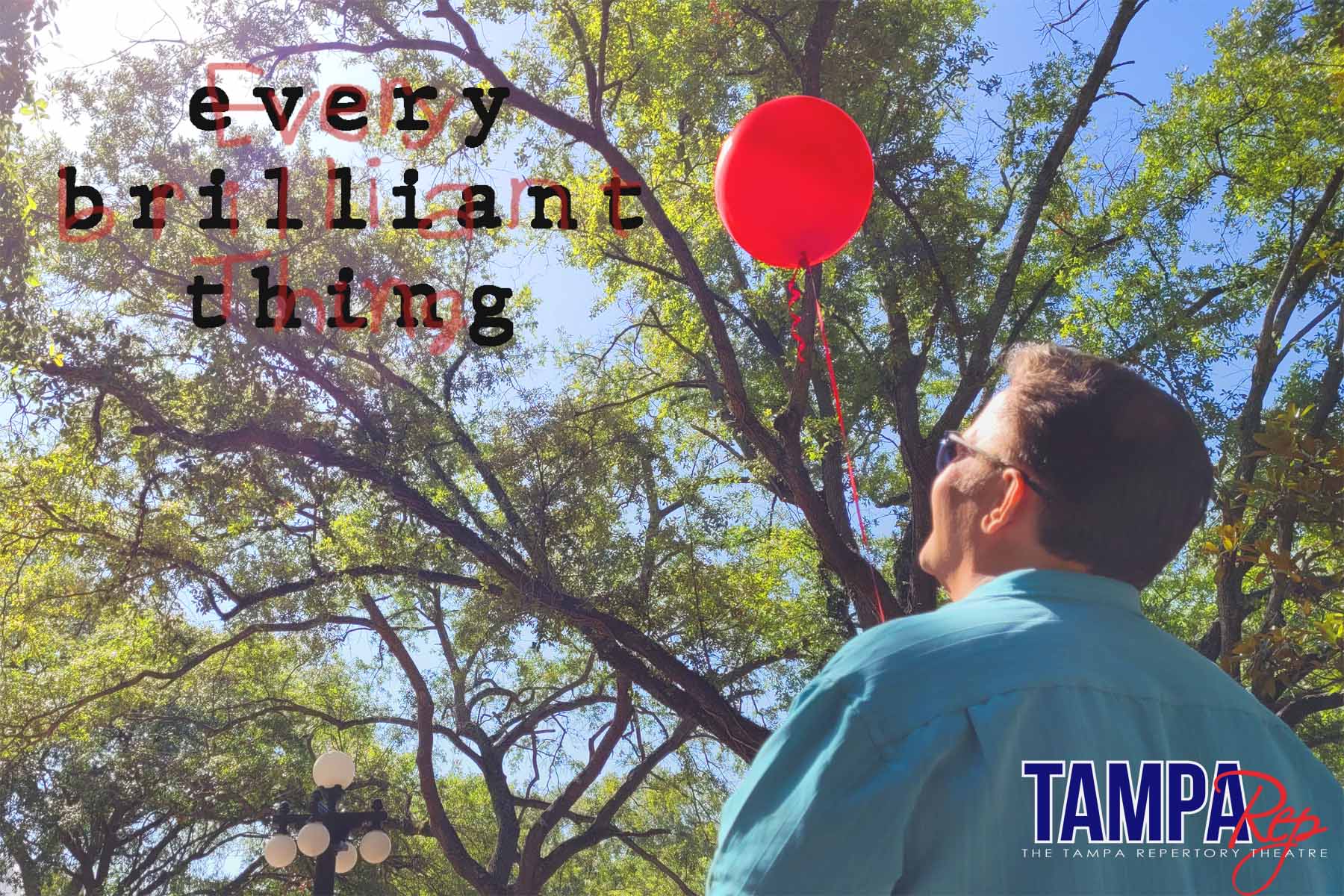 Support TampaRep with a quick donation: Text TAMPAREP to 44321
September 16 – October 3, 2021
Thur / Fri / Sat evenings – 7:30pm / 9:00pm
Sun matinees – 3:00pm / 4:30pm
Alternates performances with OPEN
Seating begins 15-30 minutes prior to showtime.
Approximate running time is 65 minutes.
TampaRep will follow all local and CDC-suggested COVID safety guidelines at the time of the performances. As of 9/5/21, masks will be required for all guests, staff, and volunteers inside the theatre. In addition, social distancing will be in effect. Actors will not be masked.
parking & transportation:
There are many parking options around the venue. MORE INFORMATION is available here.
Seating will be general admission – first-come, first seated. Non-alcoholic refreshments are available for purchase.
HCC Performing Arts Ybor City
| | |
| --- | --- |
| Author | Duncan Macmillan, with Jonny Donahoe |
| | |
| --- | --- |
| Performer | Ned Averill-Snell |
| | |
| --- | --- |
| Production Design | Jim Sorensen |
| | |
| --- | --- |
| Lighting & Sound Design | Keith Arsenault |
| | |
| --- | --- |
| Stage Management | Jasmine Arroyo |
NED AVERILL-SNELL
has appeared at Jobsite Theater in Gloucester Blue, Lebensraum, The Last Night of Ballyhoo, Twelfth Night, Inventing Van Gogh and other plays, and at American Stage (Tartuffe, A Moon for the Misbegotten, Chesapeake), Tampa Repertory Theatre (The Iceman Cometh, Betrayal), Improbable Athenaeum (A Man for All Seasons), Hat Trick Theatre (A Thousand Clowns), Stageworks Theatre (The Sugar Bean Sisters), the 2012 United Solo festival in New York (in his original play Little Tunes), and for three seasons at Indiana Repertory Theatre. He appeared in the St. Pete-produced independent film Waiting on Mary, and is the author of the novel Small Professional Murder, a mystery set in the Florida small theatre scene. Ned lives in Tampa with his wife, director and lighting designer Jo Averill-Snell, and is a father of three.
DUNCAN MACMILLAN
Plays include: PEOPLE, PLACES AND THINGS (2015-2017, National Theatre/Wyndham's Theatre, West End); 1984, adapted from George Orwell (2013-2017, Headlong/Nottingham Playhouse Theatre Company, West End, Broadway, international tours, co-adapted/co-directed with Rob Icke); EVERY BRILLIANT THING (2013-2017, Paines Plough/Pentabus Theatre, Edinburgh Festival, UK and international tours, HBO); CITY OF GLASS, adapted from Paul Auster (2017, 59 Productions, HOME, and Lyric Hammersmith); 2071, co-written with Chris Rapley (2014-2015, The Royal Court/Hamburg Schauspielhaus); THE FORBIDDEN ZONE (2014-2016, Salzburg Festival and Schaubühne Berlin); WUNSCHLOSES UNGLÜCK, adapted from Peter Handke (2014, Burgtheater Vienna); REISE DURCH DIE NACHT, adapted from Friederike Mayröcker (2012-2014, Schauspiel Köln, Festival d'Avignon, Theatertreffen); LUNGS (2011-2016, Paines Plough and Sheffield Theatres/Studio Theatre, Washington, DC); and MONSTER (2006, Royal Exchange Theatre).