Come Back Together
with TampaRep,
ThinkTank,
and Stageworks!
Collaboration Sponsors: Hal Freedman & Willi Rudowsky
THE GIVER is produced by special arrangement with
THE DRAMATIC PUBLISHING COMPANY
of Woodstock, Illinois
Jonas' world is perfect. Everything is under control and safe. There is no war or fear or pain. There are also no choices. Every person is assigned a role in the community. But when Jonas turns 12, he is chosen for special training from The Giver—to receive and keep the memories of the community. The Giver is the only person who holds the memories of real pain and real joy. Now Jonas will learn the truth about life—and the hypocrisy of his utopian world. Through this astonishing and moving adaptation, discover what it means to grow up, to grow wise, and to take control of your own destiny.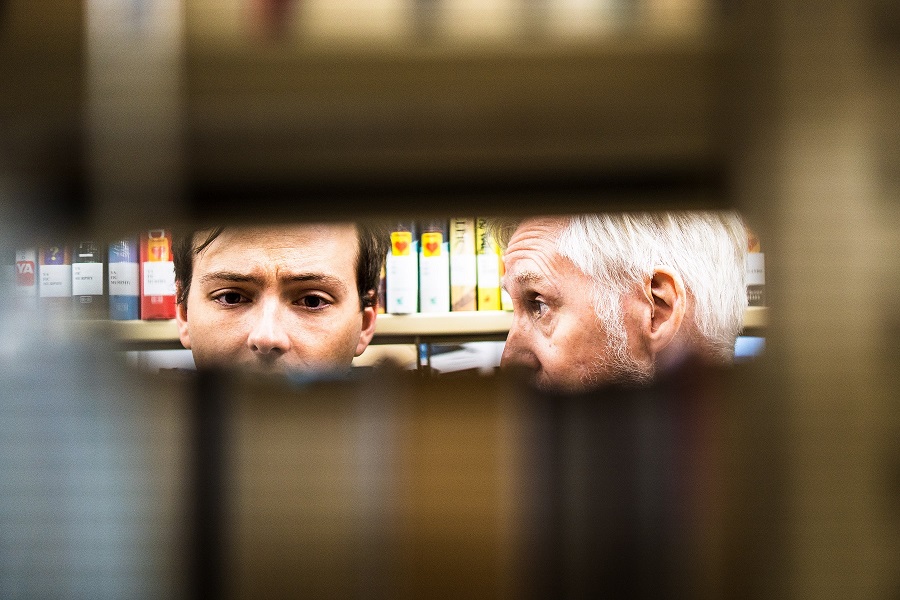 | | |
| --- | --- |
| Director | Georgia Mallory Guy |
| | |
| --- | --- |
| Costume Design | Melanie Smith |
| | |
| --- | --- |
| Lighting Design | Cody Basham |
| | |
| --- | --- |
| Sound & Video Design | Georgia Mallory Guy |
| | |
| --- | --- |
| Wig Design | Strands by Sus |
| | |
| --- | --- |
| Stage Manager | Jessie Dorsey |
| | |
| --- | --- |
| Asst. Stage Manager | Jeron Dooling |
| | |
| --- | --- |
| Asst. Stage Manager | Gil Bloom |
| | |
| --- | --- |
| Technical Director | Paul McColgan |
Father

Cranstan

Cumberbatch
Mother

Marie-Claude

Tremblay
| | |
| --- | --- |
| Chief Elder | Andresia Moseley |
CRANSTAN CUMBERBATCH
born and raised in St. Petersburg, FL,  is an award winning film & stage actor, writer, director, producer, and U.S. Talent Olympic Medalist. He was most recently seen prior to the pandemic in the hit independent film Agent X the movie, and the Dominique Morriseau stage play Pipeline with American Stage Theater Company. Other stage credits include; A Raisin in the Sun as Bobo, Two Trains Running as Wolf, and  RENT as Benny all with American Stage Theater Company. He also has had significant roles in Webb's City as Leo, Crossing the Bay, and Voodoo Macbeth as Malcolm with the Studio@620. Cranstan is truly grateful and excited to be a part of such an amazing production that's being brought to life by an Amazing Director, Cast, & Crew to match.
MARIE-CLAUDE TREMBLAY
originally from Quebec City, Canada, is stunned and delighted to realize she has been active on the Tampa Bay theatre scene since her arrival to the area, 5 years ago. She is excited to work with TampaRep for the first time! Favorite credits include, Natural Shocks, Ugly Lies the Bone, Proof and Dark Vanilla Jungle (Innovocative Theatre), Judgment at Nuremberg (Stageworks Theatre), Mike Hammer, Encore for Murder (Ruth Eckerd Hall). Her first foray into playwriting, Thank You Notes, was produced at the Tampa International Fringe Festival. She thanks her family for the love, support and endless inspiration.
ANNIE SARDOUK
is thrilled to be a part of TampaRep/ThinkTank's production of The Giver. Her favorite past experiences include Annie (Annie), Katherine (Newsies), Belle (Beauty and the Beast), Grizabella (Cats), and Trix (The Drowsy Chaperone). Annie is a junior at Berkeley Prep and loves being a part of the school's outstanding theatre program and competitive a cappella group. She is part of an award-winning robotics team and loves science in general. Annie is also a member of ThinkTank's YAE Company. Most of all, she loves her friends and family. She would like to thank Marshall, Trav, Georgia, and the many coaches who have supported her in this passion.
HARRISON BAXLEY
has just graduated from USF with a degree in Theatre Arts. He is an actor, writer, and anything else he's asked to be. Previous ThinkTank audiences may remember him as Jean Passepartout in Around the World in 80 Days. He recently Stage Managed ThinkTank's production of Snoopy!!! the Musical and runs the company's social media. He would like to thank Georgia and the whole TampaRep/ThinkTank fam for letting him be a part of this incredible story.
NOAH PEREZ
is a junior at Blake High School majoring in theater performance and a member of ThinkTank's YAE Company. He comes from a choral background attending all state and all county choirs. He has been blessed with many opportunities, the most recent being the musical The 25th Annual Putnam County Spelling Bee at Blake. Noah also wrote his very first one act entitled Strawberry Clouds and intends to continue writing more alongside performing.  When not on stage Noah enjoys photography, volleyball, creative writing, all music and hanging out with friends. Noah would like to deeply thank TampaRep/ThinkTank for this opportunity to preform with this amazing group of people. Enjoy the show!
IMANI ALVARADO
is ecstatic to be returning to ThinkTank Theatre as Fiona in The Giver. Imani's most recent and favorite roles she has appeared as include Lucy Van Pelt in Snoopy!!! (ThinkTank Theatre, TYA) and Heather Chandler in Heathers (madTheatre). She would like to thank her family, especially her husband, for always encouraging her to follow her dreams and never give up. In the future Imani hopes to be able to offer young rising actors the same opportunities, support, and educational experience that she has been afforded.
DONNA DELONAY
previously appeared with Tampa Rep as Amelia Tilford in The Children's Hour. Other recent local credits include Kitty in Perfect Arrangement and Jack's Mother in Into the Woods (both at freeFall Theatre in St. Petersburg) and lead roles in several plays at Early Bird Dinner Theater in Clearwater. Donna has a BFA in Musical Theater from FSU and an MFA in Performance from the Asolo Theater Conservatory. She is so very happy that live theater is back!!!
ANDRESIA MOSELEY
a classically trained actress, was on national tour as the lead character in Speed Killed My Cousin with the Carpetbag Theatre Inc. Knoxville, TN (2016-2019). Moseley's performance in Anna Deavere Smith's Twilight: Los Angeles 1992, where she played 27 characters was named "best performance of 2020" by Broadway World. She received an honorable mention in The Wall Street Journal for her performance as Ms. Muller in Jobsite Theatre's Doubt: A Parable (2021). Her performance as Kendra in Stagework's production of American Son was declared: "A true masterclass performance by an actress on top of her game…" by Broadway World (2021). In 2021 Moseley won Best Year Acting Division-Critics Pick by Creative Loafing Tampa.
HUGH TIMONEY
is thrilled to have this wonderful opportunity to work with Tampa Rep and ThinkTank. Tampa credits include: The Iceman Cometh (Tampa Rep), The Underpants (Jobsite Theater), Cloud 9 (Jobsite Theater), Judgment at Nuremberg (Stageworks), Something Spooky This Way Comes (St. Petersburg Shakespeare Co.).  He also works as a Standardized Patient Actor as part of a collaboration with ThinkTank and the University of Tampa. Hugh is a SUNY Brockport Theatre graduate who has studied in NYC and appeared Off-Off Broadway.
SOFIA PICKFORD
is a junior at Alonso High School, a board member of troupe 6299, and a longtime student at Patel Conservatory, where she has completed her junior theatre certification and is pursuing her musical theatre certification, and is a member of ThinkTank's YAE Company. Her most recent credits include Showstoppers, ThinkTank's Playwrights Festival, Mamma Mia, Snoopy, and The Little Mermaid. She has recently won best overall in the Dali Museum fashion program and enjoys sewing in her free time, as well as costume design. She's danced since the age of three and has always loved the performing arts. She is so excited to perform in The Giver, her third production with ThinkTank!
CALEE GARDNER
is a newcomer to Florida from Utah and is thrilled to be working with TampaRep on this wonderful story! Recent roles include: Harriet Smith (Emma, Hale Center Theater), Diana Barry (Anne of Green Gables, Pardoe Theater), Miranda (The Tempest, Renaissance Now), Marianne Dashwood (Sense and Sensibility, Hale Center Theater), and Deirdre Blake (The Humans, Nelke Theater). She also performed and presented at the IUGTE Physical Theater Conference in Leibnitz, Austria. A recent BFA Music Dance Theater graduate, Calee is also an accomplished voice teacher and dramaturg.
RYAN STRUM
Ryan's bio is forthcoming.
ERIC COBLE
plays include The Velocity of Autumn (Broadway premiere at the Booth Theatre, starring Estelle Parsons and Stephen Spinella, directed by Molly Smith), Fairfield, Southern Rapture,Bright Ideas, The Dead Guy, My Barking Dog, A Girl's Guide to Coffee, and The Giver and have been produced Off-Broadway, in all fifty states of the U.S., and on several continents, including productions at Manhattan Class Company, The Kennedy Center, Playwrights Horizons, Actors Theatre of Louisville Humana Festival, Denver Center Theatre Company,  Arena Stage, New York and Edinburgh Fringe Festivals, Alliance Theatre, Cleveland Play House, Alabama Shakespeare Festival, South Coast Repertory, Asolo Repertory, Indiana Repertory, Coterie Theatre, Great Lakes Theater Festival, Stages Repertory, Geva Theatre, and The Contemporary American Theatre Festival.   Awards include the AATE Distinguished Play Award for Best Adaptation, an Emmy nomination, the Chorpenning Playwriting Award for Body of Work, the AT&T Onstage Award, National Theatre Conference Playwriting Award, an NEA Playwright in Residence Grant, a TCG Extended Collaboration Grant, the Cleveland Arts Prize, two Cuyahoga Arts and Culture Fellowships, and four Ohio Arts Council Individual Excellence Grants.
LOIS LOWRY
is an American writer. She is the author of several books for children and young adults, including The Giver Quartet, Number the Stars, and Rabble Starkey. She is known for writing about difficult subject matters, dystopias, and complex themes in works for young audiences. Lowry has won two Newbery Medals: for Number the Stars in 1990 and The Giver in 1994. Her book Gooney Bird Greene won the 2002 Rhode Island Children's Book Award. Many of her books have been challenged or even banned in some schools and libraries, including the first book of The Giver Quartet, The Giver (1993) which is considered mandatory curriculum in some schools while being prohibited in others.
GEORGIA MALLORY GUY
is the Producing Artistic Director of ThinkTank Theatre as well as a professional actor/director. Regional credits include: Milwaukee Rep., Orlando Shakes, Pittsburgh Irish and Classical, Palm Beach Dramaworks, Florida Rep., American Stage, freeFall, Jobsite, Stageworks, Tampa Rep., Banyan, A Simple Theatre, ThinkTank, Show Palace, Monomoy and Festival 56 among others. Georgia is an adjunct professor for Centenary University and a former adjunct at the University of South Florida, Ohio University, and Troy University. She is a proud member of Actors' Equity. Originally from Prattville, AL, Georgia attended Troy University, earning degrees in Music Education, Communications/Theatre, and a vocal minor. Georgia earned her MFA in performance from Ohio University's Professional Actor Training Program. She currently goes back and forth between Florida and New Jersey, has a loving husband, Traveis, and some amazing fur babies.
DIRECTOR'S NOTE:
"My dear friend and former Associate Artistic Director, Ryan Bernier, brought the one-act version…" (CLICK TO CONTINUE READING)
MELANIE SMITH
is an Army veteran, a part-time quilter and a full time mom.  She first worked in costume design with ThinkTank's production of Snoopy last spring.  It was very rewarding to work with Director Georgia Mallory Guy to bring the world of The Giver to life with costumes.  I've enjoyed working with the professional actors, YAE, director, stage manager and crew in this exciting partnership.  When not exploring a monochromatic palette, she enjoys all things crafty and spending time with her family.
STRANDS BY SUS!
Strands by Sus! (Wig Design) – During Susan Haldeman's 25+ years as a theatre professional, she has designed and built wigs for Urbanite Theatre, TheatreZone, The Show Palace, freeFall Theatre, Think Tank Theatre, Stageworks Theatre, and The Hippodrome. Strands by Sus! specializes in theatrical, drag, cosplay, & burlesque wigs. 
Please check out Strands' Insta & FB to learn more: @StrandsBySus
Etsy: www.Etsy.com/shop/StrandsBySus
JESSIE DORSEY
is a freelance Stage Manager in the Tampa Bay Area. She graduated with her BA in Theatre Arts in 2016 and with her MBA in 2020. She currently holds a full-time job at HCC and is pursuing her EdD. In her nonexistant free time, Jessie plays the ocarina, enjoys her hyper-energetic dog, cooks, plays D&D and video games, and crafts. Jessie is very grateful to ThinkTank and Tampa Rep for the wonderful opportunity to Stage Manage both of these incredible productions.
PAUL McCOLGAN
is a founding member and Production Manager of Hat Trick Theatre Productions.  When not hiding out in his workshop, he can be found building both fake and real rooms and houses around the Tampa Bay Area.  He would like to thank TampaRep, ThinkTank, and Stageworks for keeping him around, and he would like to thank you for coming to see this show!  Extra special thanks to BD&R for making his life so great.  Stay safe and enjoy the show!
JERON DOOLING
Jeron is thrilled to be working on his first show with ThinkTank Theatre. His most recent credits include ASMing for TampaRep's Open and Every Brilliant Thing, and stage managing for Carrollwood Players Theatre's productions of Godspell and A Midsummer Night's Dream. He would like to thank Jasmine for her mentorship. In his free time, Jeron performs improv comedy as a member of "Daytime Delusions."
GIL BLOOM
is excited to be back at ThinkTank for another production. Favorite credits include the technical director of Bad Jews with the JCC, Stage Manager of The Muller Report with Stageworks, and the sound engineer for. James and the Giant Peach with the Patel Conservatory. Gil is a student at Robinson High School and has also trained at the Patel Conservatory. Ok that's it.
CARLY KUCK
is a sophomore at Alonso high-school, and a part of troupe 6299. Most recently, Carly was Puck in Alonso's production of A Midsummer Nights Dream. Along with theatre, she has a passion for orchestra and swim, which she participates in at her school. Carly is honored to serve as assistant director for this production of The Curious Incident of the Dog in The Night-time, she hopes you enjoy the show!
* Member of The ThinkTank Theatre Youth Artists' Ensemble