Come Back Together
with TampaRep and
USF School of Theatre and Dance
Hosted by:
USF School of Theatre and Dance
Production Sponsors:
Anonymous
Russell Buchan
Frank Taylor
with the support of the Arts Council of Hillsborough County and the Hillsborough County Board of County Commissioners
Sponsors: Design One Jewelers
Robin Gordon & Ned Schroering
This production of KING LEAR is dedicated to the memory of TampaRep's founding artistic director, C. David Frankel. Learn more about David by (CLICKING HERE).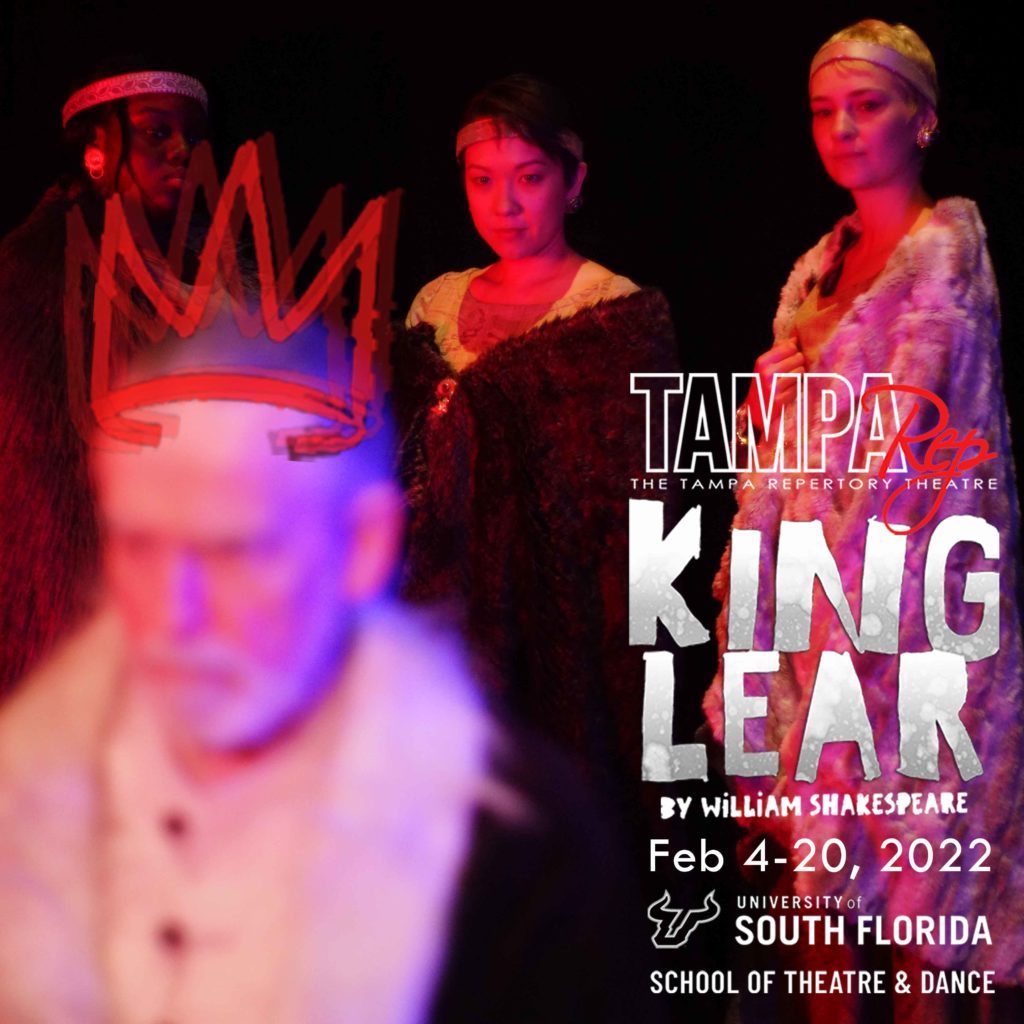 SETTING
ACT 1
Scene 1 – Lear's Castle
Scene 2 – Gloucester's Home
Scene 3 – Goneril's Castle
Scene 4 – Goneril's Castle
Scene 5 – Outside Goneril's Castle
Scene 6 – Gloucester's Home
Scene 7 – Outside Gloucester's Home
Scene 8 – The Woods
Scene 9 – Gloucester's Home
ACT 2
Scene 1 – The Heath
Scene 2 – Gloucester's Home
Scene 3 – Outside the Hovel on the Heath
Scene 4 – Gloucester's Home
Scene 5 – Farmhouse near Gloucester's Home
Scene 6 – Gloucester's Home
Scene 7 – The Heath
Scene 8 – Gloucester's Home
Scene 9 – French Camp
Scene 10 – Gloucester's Home
Scene 11 – Countryside near Dover
Scene 12 – French Camp
Scene 13 – British Camp
Scene 14 – Field near British Camp
Scene 15 – British Camp
RUNNING TIMES
ACT 1: 90 minutes   ACT 2 : 95 minutes
A NOTE FROM THE DIRECTOR:
"'How sharper than a serpent's tooth it is To have a thankless child!' (King Lear, Act 1, Scene 4) is one of best-known quotes…" (CLICK TO CONTINUE READING)
SYNOPSIS
Some guests find a brief synopsis of the story to be helpful when watching Shakespeare. If that's you, (CLICK HERE)
Also, remember that poetry is often more impactful when it is experienced rather than dissected word for word. Let Shakespeare's language wash over you and you'll likely find more enjoyment and engagement with "The Bard of Avon" and this iconic tale.
A NOTE FROM THE PRODUCING ARTISTIC DIRECTOR:
"'After a nearly two-year postponement, King Lear is being brought to the stage in honor of C. David Frankel…" (CLICK TO CONTINUE READING)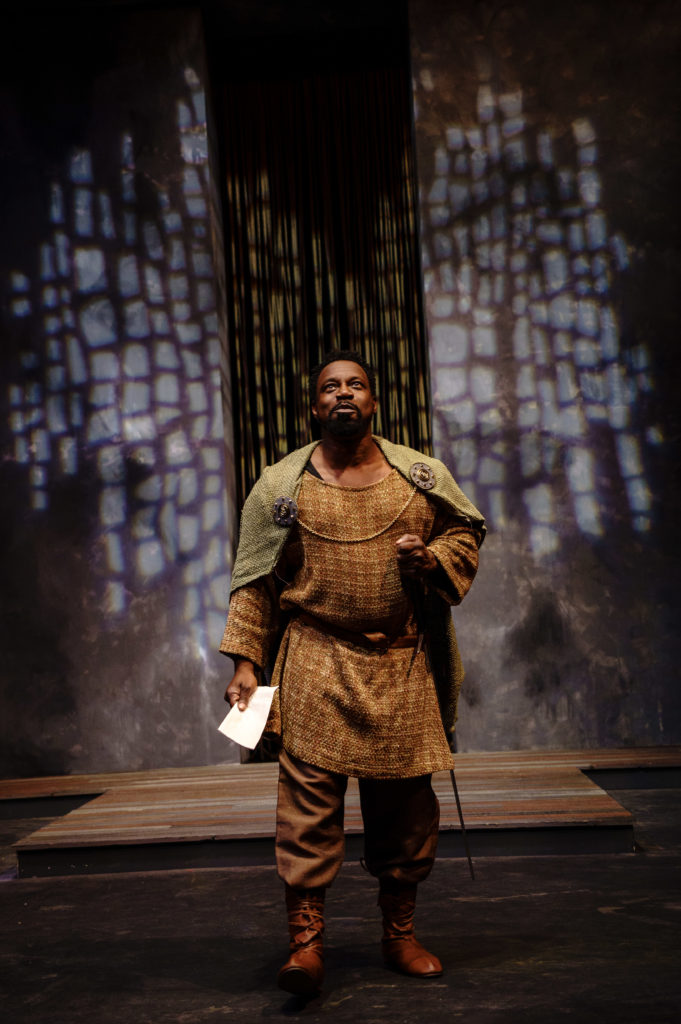 | | |
| --- | --- |
| Playwright | William Shakespeare |
| | |
| --- | --- |
| Director | Connie LaMarca-Frankel |
| | |
| --- | --- |
| Co-Director | Megan Lamasney |
| | |
| --- | --- |
| Set & Costume Design | Frank Chavez |
| | |
| --- | --- |
| Lighting Design | Jo Averill-Snell |
| | |
| --- | --- |
| Original Score | Igor Santos |
| | |
| --- | --- |
| Fight Choreo. | Sarah S. Berland |
| | |
| --- | --- |
| Properties | Nicolas Sierra |
| | |
| --- | --- |
| Costume Design Assistant | Jessie Sandoval |
| | |
| --- | --- |
| Stage Manager | Chloe DiPaola |
| | |
| --- | --- |
| Asst. Stage Manager | Claire Mayo |
| | |
| --- | --- |
| Production Manager | Jasmine Arroyo-Towle |
| | |
| --- | --- |
| Producing Artistic Director | Emilia Sargent |
| | |
| --- | --- |
| Technical Director | Jim Sorensen |
| | |
| --- | --- |
| Wardrobe Crew | Melanie Albrecht |
| | |
| --- | --- |
| Sound Board Operator | Justyn Barrios |
| | |
| --- | --- |
| Backstage Crew | Kaylie Nickerson |
| | |
| --- | --- |
| King Lear | Michael Mahoney |
| | |
| --- | --- |
| Regan | K Chinthana Sotakoun |
| | |
| --- | --- |
| Edmund | Cranstan Cumberbatch |
| | |
| --- | --- |
| Cornwall | Jeffrey M. Lukas |
| | |
| --- | --- |
| Burgundy / Oswald | Harrison Baxley |
| | |
| --- | --- |
| France / Knight / et al | Chase Tomberlin |
MICHAEL MAHONEY
studied acting with Richard Green (University of Florida), Sheila Wessner (Actor's Arena) and James Rayfield (American Stage). TampaRep audiences may remember his work as Alex in Heisenberg, Alfieri in A View from the Bridge and Larry Slade in The Iceman Cometh (for which he was honored to receive the Theatre Tampa Bay Outstanding Lead Actor award).  Other Bay Area credits include Weedon Scott in freeFall Theater's world premiere production of White Fang, Gonzalo in The Tempest at Jobsite Theater, Beverly Weston in August: Osage County, Robert in Proof, and Lyman Wyeth in Other Desert Cities.
MACKENZIE AARYN
new to the Tampa Bay Area is beyond excited to start her journey with TampaRep in King Lear! Originally from Northern, Ohio MacKenzie studied Acting at Wright State University. Previous roles include: Stella in A Streetcar Named Desire, Katie in Bachelorette, Rose of Sharon in The Grapes of Wrath, and Witch 3 in Macbeth. She would like to thank the entire theatre going community for keeping such a beloved art form alive!
JADA GRIFFIN
is a Georgia native, Florida-bred actress, having cultivated her craft since childhood. Some of her credits include Mamma Mia (Ali) at Francis Wilson Playhouse; The Wolves (#25/Captain), Dead Man's Cell Phone (Mrs. Gottlieb), Orlando (Virginia Woolf), and professional voiceover work on a national commercial, #OneUSF, for the University of South Florida. She graduated from University of South Florida with her Bachelor's in Theatre Performance and continued her study in a musical theatre summer intensive under various accredited instructors of Musiktheater Bavaria, originally based in Germany.
K CHINTHANA SOTAKOUN
(they/them) most recently played with TampaRep as The Magician in the one person show OPEN. They have acted locally and regionally in stage productions with companies including American Stage, freeFall, and Jobsite. K trained in the BFA acting program at the University of Illinois and currently studies with Eugenie Bondurant in Saint Pete. K is a frequent commercial actor, appearing in over 30 spots regionally and nationally. They recently wrapped on a short film where they played the lead and composed the score. K is represented by Level Talent Group. www.kcsotakoun.com
JIM WICKER
is pleased to return to TampaRep, where he has previously performed in Cat on a Hot Tin Roof, Hamlet, Cold Storage, Imagining Madoff, Stupid F**king Bird, and Heroes. His other recent credits include Yellowman, The Last Cigar, Judgment at Nuremburg, and Yankee Tavern. Jim is the literary manager for the Radio Theatre Project, which performs in St. Petersburg at the Studio @ 620. He has featured roles in the independent films, Waiting on Mary and The Lost Digit. Jim is a retired drama teacher who now divides his time between his Tampa home and his log cabin in the Blue Ridge Mountains of North Carolina. His life is good.
MATTHEW FRANKEL
is honored to be a part of this production as both a USF and Tampa Repertory Theatre alum, previously performing in Betrayal, A Streetcar Named Desire, and Tampa Rep's Inaugural play Alcestis. He recently performed with Unto These Hills' 2021 season, Some Sort of Show, and Theatre eXceptional. Matthew is also a member of the Society of American Fight Directors. When not on stage Matthew spends his time educating himself on how to dismantle capitalism and form worker unions here in the Bay Area. Workers of the World Unite!
CRANSTAN CUMBERBATCH
born and raised in St. Petersburg, FL,  is an award winning film & stage actor, writer, director, producer, and U.S. Talent Olympic Medalist. He was most recently seen as a rep company member in The Curious Incident of the Dog in the Night-Time and The Giver, playing the father in both. Prior to the pandemic, his most recent appearance was in the hit independent film Agent X the movie, and the Dominique Morriseau stage play Pipeline with American Stage Theater Company. Other stage credits include; A Raisin in the Sun as Bobo, Two Trains Running as Wolf, and  RENT as Benny, all with American Stage Theater Company. He also has had significant roles in Webb's City as Leo, Crossing the Bay, and Voodoo Macbeth as Malcolm with the Studio@620. Cranstan is truly grateful and excited to be a part of such an amazing production.
JACK HOLLOWAY
A graduate of the Florida School of the Arts and University of South Florida, Jack has been acting/directing/teaching in the Bay area for over a decade.  He currently serves as Drama Department Chair for the Marcia P Hoffman School of the Arts and Artistic Director for Hat Trick Theatre.  Past acting credits include:  Hamlet in Hamlet (TampaRep), Estragon in Waiting for Godot (Hat Trick), and Caliban in The Tempest (USF). For David…
DEAN WICK
In 2020, the local STAR awards recognized Dean as a favorite male lead for his Tennessee Williams portrayal in Miss Edwina (Gulfport Community Players) with the unusual honor of having to share the award with himself for his portrayal of Scrooge in A Christmas Carol (St Pete City Theater). Other favorite roles include Zbrowski in Modigliani (GCP), Frank in Over the River and Thru the Woods (Early Bird Dinner Theater), and especially 3x as Clarence in It's a Wonderful Life – A Radio Play (American Stage Theater Company). Dean is also a frequent voice for Radio Theatre Project at the Studio@620.
ROXANNE FAY
is an actor, playwright and Artistic Director for Circle in The Water.
As playwright, she has been awarded a fellowship by the Hosking House Trust in Stratford Upon Avon and the Hawthornden Writers' Fellowship at Hawthornden Castle, Scotland. Roxanne received the Creative Pinellas Individual Artist Fellowship and her first film, Breton And The Muse: A Midnight In Paris, was a focal point of the Dali Museum's exhibition coordinated with Le Centre Pompidou (Paris).
As an actor, Roxanne has received recognition for her work with Jobsite Theater in Doubt, The Tempest, Twelfth Night, As You Like It, Much Ado About Nothing, and HIR. Other roles include Mary Tyrone in Long Day's Journey Into Night, Leni Riefenstahl in Leni, and Beatrice in The Effect Of Gamma Rays On Man-In-The-Moon Marigolds (Bridge Street Theatre, NY), Dr. Emma Brookner in The Normal Heart and Nurse Ratched in One Flew Over The Cuckoo's Nest (Freefall Theatre, FL).
Roxanne is an Artistic Associate and board member at Jobsite Theater.
HARRISON BAXLEY
has recently graduated from USF with a degree in Theatre Arts. He is an actor, writer, and now teacher at Hillsborough High School. He was most recently seen in The Giver with ThinkTank Theatre and TampaRep. Other roles have been Jean Passepartout in Around the World in 80 Days (ThinkTank) and AP in Columbinus (Innovocative Theatre). He would like to thank his partner, Sydney and his cat Elio.
CHASE TOMBERLIN
is thrilled to be making his TampaRep debut in one of his favorite Shakespearean plays, King Lear. Chase is an actor and director with a degree in Theater from Bowdoin College in his home state of Maine. Most recently he has been seen on stage with the Carrollwood Players in A Midsummer Night's Dream (Lysander), and Godspell (Judas). Some of Chase's other favorite roles are Curly in Oklahoma and directing King Lear back in college. Chase would like to thank everyone in the audience for keeping theater alive in these complicated times.
WILLIAM SHAKESPEARE
was an English playwright, poet and actor, widely regarded as the greatest writer in the English language and the world's greatest dramatist. He is often called England's national poet and the "Bard of Avon".
CONNIE LAMARCA-FRANKEL
is a retired Professor and former Chair of Humanities at Pasco-Hernando State College where she taught Humanities, Theatre, Art Appreciation, and Leadership Studies. She has an M.F.A. in Directing from the University of Wisconsin-Madison. While her specialty is youth theatre, directing A Midsummer Night's Dream, Annie, Cinderella, The Trial of The Big Bad Wolf, The Best Christmas Pageant Ever, and The Sound of Music for Arts-in-Motion-Pasco, she has also directed The Crucible, The Odd Couple, The Good Doctor, and Carousel. Connie is a founding member of the TampaRep company and directed their productions of Cold Storage, Phoenix, I Do! I Do!, Silent Sky, and co-directed Stupid F**king Bird with her husband C. David Frankel. She is the Director of Educational Outreach for TampaRep and has worked with students at Center Academy and St. Peter Claver Catholic School. Connie has done costumes for Mother Teresa of Calcutta Catholic School for their productions of Seussical and Once Upon a Mattress.
A NOTE FROM THE DIRECTOR:
"'How sharper than a serpent's tooth it is To have a thankless child!' (King Lear, Act 1, Scene 4) is one of best-known quotes…" (CLICK TO CONTINUE READING)
MEGAN LAMASNEY
is humbled to return to TampaRep and assist in bringing to life C. David Frankel's final production. It is an honor to be a steward of his vision and legacy. Previous TampaRep productions include directing their inaugural production of Alcestis (2011) and directing True West (2015). Megan also assisted C. David Frankel on Gnit (2018) and A View From the Bridge (2018). Other favorite directing credits include Disco Pigs (Silver Meteor Gallery), Romeo and Juliet (Tampa Shakespeare Festival), and Much Ado About Nothing (Tampa Shakespeare Festival).
FRANK CHAVEZ
is pleased to return to Tampa Rep.   Previously he designed costumes for Tampa Rep productions of Heroes & Cat on a Hot Tin Roof. Frank has worked as a scenic & costume designer for over 20 years. Recent productions include The Smuggler Urbanite Theatre, 12 Angry Men, Diary of Anne Frank Stageworks & Semele St. Pete Opera. He has received 4 TTB awards and 4 Best of the Bay awards. Some local credits include, Marie & Rosetta, End of the Rainbow, Glass Menagerie (costume design) Freefall Theatre.  Much Ado About Nothing, Joe Turner's Come & Gone, Tartuffe (costume design), Good People, Hamlet, and The Piano Lesson (scenic design) American Stage, In the Time of the Butterflies, 5 Lesbians Eating a Quiche,Sylvia, The Aliens (scenic & costume design) Stageworks Theatre. Along with work in Florida, Frank has also designed for Norwegian Cruise Lines and numerous off-Broadway and regional theatres. He is a frequent guest artist at the University of Northern Colorado, and is currently Resident Costume Designer of the University of Tampa. www.FrankChavezDesigns.com
JO AVERILL-SNELL
is delighted to work with  TampaRep again. Audiences may have previously seen her lighting design in TampaRep shows, or with Jobsite, the Straz, StageWorks, freeFall, Urbanite, or other area theaters. She is a graduate of USF's theater program, and so it's great to return and design in Theatre II!  She is also the Artistic Director of the literary performance troupe Improbable Atheneum.  Love and thanks to Ned and Connor!
MATT COWLEY
is a writer, musician, and sound designer living in St. Pete.
IGOR SANTOS
A native of Curitiba, Brazil, Igor Santos is a composer of concert and theater music. His works are performed internationally and he is the recipient of multiple awards, including the Rome Prize from the American Academy of Rome, and the John Simon Guggenheim Memorial Fellowship. Igor has composed with TampaRep since its inception, and has worked on multiple theater productions since 2008.
SARAH S. BERLAND
holds a Bachelor of Arts degree in Theater Arts.  She has since continued her education through Second City Improv Company, University of South Florida, the Society of American Fight Directors, and Intimacy Directors International. Sarah works for the Patel Conservatory at the Straz Center as a Theatre Education Faculty Member, teaching and directing students from pre-k to adults.  Sarah has been a resident makeup designer/artist, as well as being a freelance artist within the Tampa Bay Community for the last 7 years. As a member of the SAFD, who is certified in six weapons, she has choreographed pieces throughout the state of Florida.
NICOLAS SIERRA
is thrilled to be a part of such a fantastic production. He is a Florida native and soon-to-be USF Graduate with a love for anything creative. Specializing in Scenic Design and Themed Environments, he currently works as a Scenic Carpenter for Wacky World Studios and hopes to one day be an Imagineer at Walt Disney World. As a passionate designer, intricate builder, and avid explorer, Nicolas isn't afraid to experiment with anything he can get his hands on. When he isn't in the workshop, you can find him traveling the country in his self-built custom camper van, Gus.
JESSIE SANDOVAL
A senior at USF Theatre of the Arts focused on Costume design. Her costume designs and builds have been used in USF's 2020 Dutchman and The Owl Answers.  Jessie has been making costumes for conventions since age 14, including body armor and props. Jessie is so grateful to TampaRep and USF for giving her an opportunity to be a part of the King Lear production.
CHLOE DIPAOLA
is thrilled to be a part of TampaRep's long awaited King Lear! Chloe has been a part of past shows including Every Brilliant Thing, A View from the Bridge, and Copenhagen. She also works around the area stage managing day and night! She would like to thank TampaRep for their perseverance through the hardships, as well as her friends, her boyfriend Ramiro and her family for supporting her and always being in the audience. Last but least, she would like to thank David Frankel and dedicate this show to him.
CLAIRE MAYO
This is Claire's fourth production with Tampa Rep, her past credits as an Assistant Stage Manager include: Heisenberg, Dinner with Friends, and Stupid F*cking Bird. They are so excited to be doing their first professional Shakespeare show and cannot wait for you to enjoy it! Other ASM credits include: The Pearl Fishers, La Boheme, Carmen, and The Pirates of Penzance; her Stage Manager credits include: L'Histoire du Soldat and The Medium. Claire would like to dedicate this performance to C. David Frankel. He is greatly missed by all of us here at TampaRep and all the hard work we have put into this show, is in his honor.
JASMINE ARROYO-TOWLE
is the vice-chair of the Board of Directors and the stage manager for Tampa REP. Jasmine has stage-managed for Tampa Rep since 2015 with shows such as The Children's Hour, Inherit the Wind, Copenhagen, and more. She was also on the Board of Directors for Theatre Tampa Bay as the secretary and marketing director after winning the Spark award in late 2019. She graduated from the University of South Florida with a Bachelor's in Theatre Arts and will be completing her MBA at Saint Leo University in Project Management in May of 2022. As a LatinX from the boroughs of New York, Jasmine believes in responsible stewardship and wanting to share the resources she has with the community. These resources include empathy, education, and expertise. Jasmine would like to thank her husband Stephen, her family, and the theatre community.
EMILIA SARGENT
As Producing Artistic Director/CEO and co-founder of TampaRep, it is her mission to produce thought-provoking, relevant, bold art that will serve the Tampa Bay community for decades to come. A long-time actor, her passions for the creation of theatre as well as for training artists are as deep as her love of performance. Directing credits at TampaRep include Every Brilliant Thing, Copenhagen and The Children's Hour. She is currently pursuing her M.F.A. in Directing and Arts Management at the University of Idaho. Emilia offers her heartfelt thanks to the donors, audiences, artists and administrators who make live theatre possible.
A NOTE FROM THE PRODUCING ARTISTIC DIRECTOR:
"'After a nearly two-year postponement, King Lear is being brought to the stage in honor of C. David Frankel…" (CLICK TO CONTINUE READING)
JIM SORENSEN
has been an actor, singer, administrator, designer, director, and all-around theatre practitioner for over 25 years. He has worked in theatres from Alaska to Florida, from New York to California, and travelled the world as an entertainer on cruise ships. Management credits include American Stage, freeFall Theatre, Florida Studio Theatre, The Music of Denali Dinner Theatre, and The Melodrama Musical Theatre. He has also been recognized with numerous awards for performances on stages throughout the Gulf Coast.
* USF/TampaRep Educational Collaboration Design Apprentice