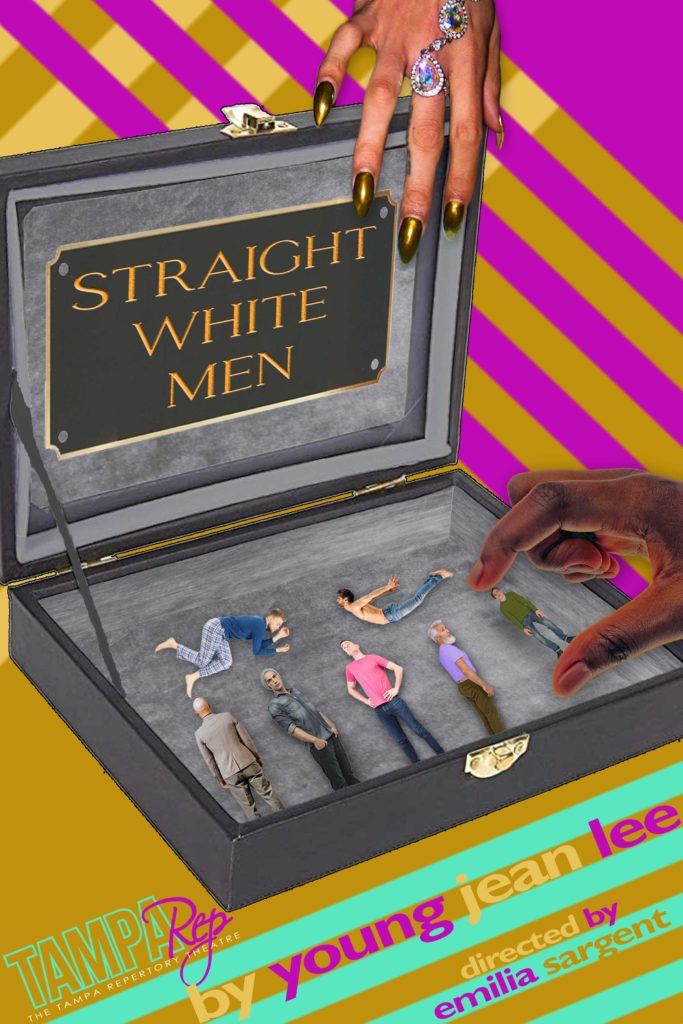 Straight White Men
by Young Jean Lee
directed by Emilia Sargent
Hillsborough Community College
Performing Arts Center – Studio Theatre
1411 E. 11th Ave., Tampa, FL 33605
September 1-18, 2022
This comedy explores what can happen when identity matters, privilege becomes problematic, and questions the value of being a straight white man as Ed and his three adult sons come together to celebrate Christmas. Lee, the first Asian American female playwright to have a play produced on Broadway, places two Persons in Charge from especially marginalized groups who are present for the duration of the play, moving the straight white men about like game pieces or display pieces like omniscient puppeteers.
"The signal surprise of STRAIGHT WHITE MEN, written by the ever-audacious Young Jean Lee, is that the play is not a full-frontal assault on the beings of the title…Ms. Lee's fascinating play goes far beyond cheap satire, ultimately becoming a compassionate and stimulating exploration of one man's existential crisis. Believe it or not, Ms. Lee wants us to sympathize with the inexpressible anguish of her protagonist, a middle-aged, upper-middle-class straight white man…[A] mournful and inquisitive play…" —NY Times.
"To cut to the obvious, STRAIGHT WHITE MEN is a loaded title…But the play turns out to have a disarming gentleness to it. Lee has more sympathy for her subject than scorn…STRAIGHT WHITE MEN is a family drama that on the surface looks fairly standard, but the play transcends psychological realism. Lee is wrestling with the meaning of straight white male privilege through characters who are self-conscious beneficiaries of an identity increasingly out of favor in 21st century America yet still, like it or not, in control." —LA Times.
Support TampaRep with a quick donation: Text TAMPAREP to 44321
September 1-18, 2022
Thur / Fri / Sat evenings – 7:30pm
Sun matinees – 3:00pm
Seating begins 15 minutes prior to showtime.
Approximate running time is 65 minutes.
TampaRep will follow all local and CDC-suggested COVID safety guidelines at the time of the performances.
parking & transportation:
There are many parking options around the venue. MORE INFORMATION is available here.
Seating will be general admission – first-come, first seated. 
HCC Performing Arts Ybor City