[su_row]
[su_column size="1/3″]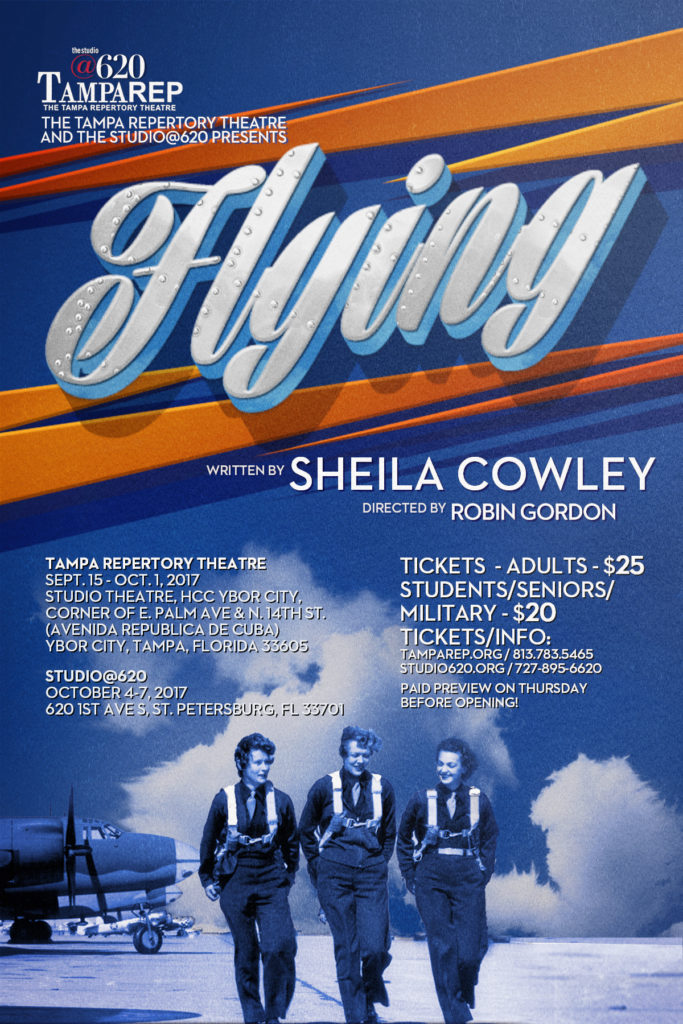 [/su_column]
[su_column size="2/3″]
Change of Dates Due to Hurricane Irma!
Please Note:  This is a new change as we lost more rehearsal time than we thought we would.
Flying, by Sheila Cowley
Directed by Robin Gordon
Sept. 21 – Oct. 1 (Free Previews Sept. 19 and 20) in The Studio Theatre at HCC Ybor City.  To make reservations for the previews, click

here

.  Tickets will also be available at the Box Office one hour before curtain.
Thursdays through Saturdays at 8pm; Sundays at 3pm. (NOTE:  The performances on the 19th and 20th will also be at 8pm.)
Oct. 4 – 7 at The Studio@620 in St. Petersburg
[content_block id=2027 slug=hcc-studio-theatre-directions]
[/su_column]
[/su_row]
TampaRep presents the Southeastern premiere of Flying!
Sheila Cowley's Flying explores the lives of women flyers in the aftermath of World War II.  Susan flew military planes during the war, so men could go and fight. Now she's home, trying to get back to normal.  Meanwhile, the town waits for her local hero husband to return.  As the town tells glory tales of Bob, Susan tries to put away her memories of flying. She uses Bob's legend to keep his family airfield going, so when Fisher, his wounded gunner, shows up looking for a job, she's forced to hire him. As the play progresses, the stories the town tells reveal Susan through what they leave out.  Drawn from oral histories and memoirs of women who served in the WASP program in WWII, Flying explores the aftermath of war and the quiet, daily acts of heroism that never earn a medal.
Purchase Tickets for Flying in the Studio Theatre at HCC Ybor City

Purchase Tickets for Flying at The Studio@620 in St. Petersburg