[su_row]
[su_column size="1/3″]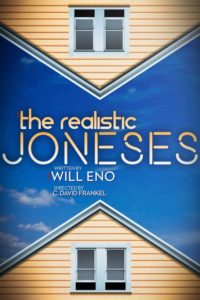 [/su_column]
[su_column size="2/3″]
The Realistic Joneses
by Will Eno
Directed by C. David Frankel
Nov. 11-13 and 15-20, 2016
Evenings at 8pm; Sunday matinees at 3pm
[content_block id=2027 slug=hcc-studio-theatre-directions]
[/su_column]
[/su_row]
Coming Soon!  The Florida premiere of The Realistic Joneses!
2014 Outer Critics Circle Award Nominee
2014 Drama League Award Nominee
Two couples, Bob and Jennifer Jones and John and Pony Jones, find themselves neighbors in small town near the mountains.  As the play unfolds, we learn what has brought them to this place, and how their lives change both because of why they're there and who they are.
"Plays as funny and moving, as wonderful and weird as The Realistic Joneses, by Will Eno, do not appear often on Broadway. Or ever, really." – The New York Times, Read More
"Eno's dialogue is a marvel of compression and tonal control, trivial chitchat flipping into cosmic profundity with striking ease…there's much to savor: the dry but meaningful banter, the joy of humans sharing time and space, battling the darkness with a joke or silence. Life in Enoland isn't what you'd call realistic—it's more real than that." – Time Out New York, Read More

"Will Eno has written a play of such extraordinary wit and insight, so carefully constructed, it resonates for days. Lines of dialogue peal through your thoughts like distant bells." – Edge Media, Read More