News from
TampaRep:  
Grounded
Extended! We Must Close on Jan. 29!
The Tampa Bay Times called it "a remarkably sure-footed production," adding it's "a war story that feels up-to-the-minute and uncomfortably believable. . . well worth going along for the ride."
Audiences agree, proclaiming that "Emilia Sargent is outstanding in this role" and "The show was great. . . Emilia Sargent rocked the performance!" As one patron summed it up, "This is a very powerful play! Don't miss it!"
Emilia Sargent as The Pilot in Grounded, by George Brant. (Photos by Désirée Fantal)
Only four more chances to see "stunning performance" in the intimate setting of Studio 120 on the TampaUSF campus.  With only 50 seats, you're in for an exciting experience. The last shows are Thursday, Jan. 26 through Sunday, January 29th.  You can buy tickets at the door (if there are any left), but why wait?  Just go to TampaRep.org/Groundedand get your tickets now.
[su_divider top="no" divider_color="#000000″ size="2″]
A post-apocalyptic vaudeville, Dog Act follows Zetta Stone, a traveling performer, and her companion Dog, a young man undergoing a voluntary species demotion, as they walk through the wilderness of the former Northeast U.S. with their little troupe. They are heading toward a gig in China, if they can find it—and if they can survive to reach it. A theatrical, darkly comic variation on the classic doomsday genre – the post-apocalyptic wilderness was never funnier!
Our staged reading of Dog Act takes place on February 13 in the CL Space.  Tickets and more info are at TampaRep.org/Dog.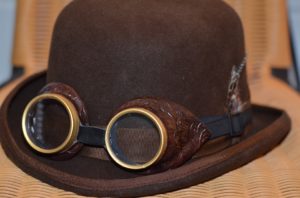 Grounded and Conversation Starters — theatre that's innovative, provocatice, classic:  that's TampaRep.
See you at the theatre,
C. David Frankel
Artistic Director