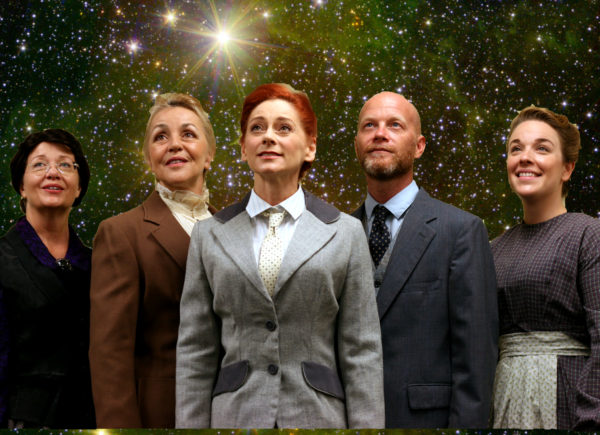 Silent Sky, Lauren Gunderson's fascinating true tale of groundbreaking women scientists, opens in less than two weeks in the Smith Black Box theater at Tampa Preparatory School.  Winner of the prestigious Lanford Wilson playwriting award for 2016, Gunderson is already one of the most-produced playwrights in the United States and Silent Sky is one of the reasons.  We're proud to be presenting the Florida premiere of this lovely, resonant play.
Silent Sky tells the story of Henrietta Swan Leavitt, an American astronomer who worked at the Harvard College Observatory as a human "computer" starting in 1893. Little remembered today, Leavitt's study of photographs of stars (women were not permitted to operate the Harvard telescope) led her to make a groundbreaking astronomical discovery—all while earning 30 cents a day.
Astonishing discoveries await Henrietta Leavitt as she maps distant stars. But this brilliant, headstrong pioneer must struggle for recognition in the man's world of turn-of-the-century astronomy. In an exquisite blend of science, history, family ties, and fragile love, a passionate young woman must map her own passage through a society determined to keep her in her place.
Critics across the country have praised the play and playwright:
"Sheer magic. Smart, infectious humor." The San Francisco Chronicle
"Radiant! Captures the wonder of science." San Jose Mercury News
"Mind-expanding. Heart-expanding." TheatreDogs
Director Connie LaMarca-Frankel has assembled a celestial cast of TampaRep veterans, including Emilia Sargent (A Streetcar Named Desire), Lynne Locher (The Children's Hour), Caroline Jett (True West) and Derrick Phillips (The Children's Hour), plus newcomer Karissa Barber.
Silent Sky opens on May 5th and runs Thursdays through Sundays until May 22nd.  Tickets are available on our website.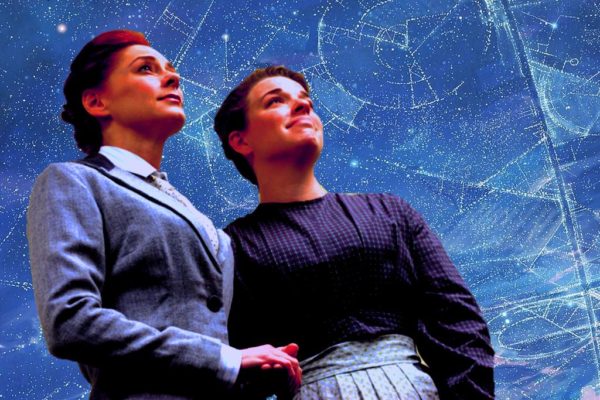 Emilia Sargent as Henrietta Leavitt and Karissa Barber as her sister gaze at the silent sky. (Photo by Désirée Fantal)
---
Blackberry Winter is coming!  Steve Yockey's mythic tragicomedy about Alzheimer's asks the question: How can you laugh when you talk about Alzheimer's?  One possible answer — because you have to, or you're going to lose it. The second offering in Conversation Starters, our new series of staged readings in partnership with Creative Loafing,Blackberry Winter focuses on Vivienne, a smart Southern lady trying to keep her spirits up amid the painful details about her mother's increasingly serious descent into dementia.  She copes by baking and putting the best face on bad news – and developing a surreal creation myth in an attempt to make sense of what's happening to her mother.
Yockey writes darkly comic and strangely wonderful plays.  The National New Play Network chose Blackberry Winter for its largest rolling world premiere ever. During the 2015-16, the play will receive seven productions from last September to this June in theatres across the country, including the recently closed production at the Capital Stage in Sacramento. Closer to home, Orlando Shakespeare Theatre will produce the play next year.
As NNPN Executive Director Nan Barnett notes, the play is "a wonderful handling of the loss that dementia brings, long before the loss of the loved one. Funny, devastating. . .perfectly placed on that line of despair and divinity that comes with caregiving."  "You might describe it as a play about Alzheimer's," said one reviewer. "But I think more accurately it's a play about what it's like to love someone with Alzheimer's."
This staged reading, directed by Robin Gordon (Gertrude in TampaRep's Hamlet), features an amazing trio of Tampa area professional actors:  Lisa Powers Tricomi, Angela Bond, and Vickie Daignault. As the title of the series suggests, there will be a post-reading conversation about the play (and open bar) after the performance.
So come on down to the Creative Loafing Space, 1911 N. 13th St. in Ybor City, on May 9th.  The doors open at 7, with curtain at 7:30.  Get your $10 tickets in advance on our website or pay at the door.
---
Our Season 5 fundraiser continues — and, yes, all we're asking is that you donate five bucks.  Of course, we wouldn't discourage you from giving more, but $5 is all we ask.
We know that loving live theatre doesn't come cheap for you. Tickets, sitters and the occasional donation strain budgets. We know that you know that no theatre can survive on ticket sales alone, that in order to keep ticket prices low companies always rely on other revenue streams. And that's why we need you.
Where does this money go?  Well, it helps pay for everything about our productions from the licensing fees to the materials for sets, lights, and costumes to the fees we pay our actors, directors, designers, and technicians (and that's where we really want to put more resources).  So, five dollars apiece from each of you will enable TampaRep to finish its landmark fifth season, capped by Eugene O'Neill's epic masterpiece, The Iceman Cometh, ready to head into an even brighter Season 6. Just click here.
---
Waiting in the wings:
The Iceman Cometh
---
See you at the theatre.
C. David Frankel
Artistic Director

---
Copyright © 2016 The Tampa Repertory Theatre, All rights reserved.
You are receiving this email because you expressed an interest in, or signed up for, news about The Tampa Repertory Theatre.
Our mailing address is:
The Tampa Repertory Theatre
217 West Powhatan Avenue
Tampa, Fl 33604
The Tampa Repertory Theatre operates as a non-profit professional theatre and is a 501(c)(3) charitable organization registered with the Florida Department of Agriculture and Consumer Services, registration # CH43726. A copy of the official registration and financial information may be obtained from the division of consumer services by calling toll-free (800-435-7352) within the state. Registration does not imply endorsement, approval, or recommendation by the state. U.S. Federal Tax ID number is 45-2408329. Your contribution is tax-deductible to the extent allowed by law.